Here is unfortunately over, try it with a different term ...
You want to be surprised?
Randomize it!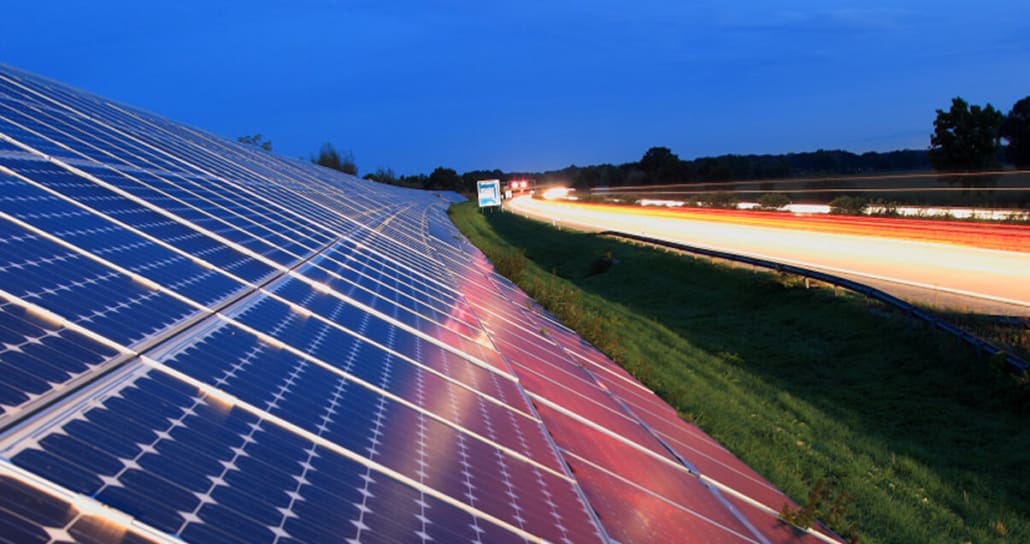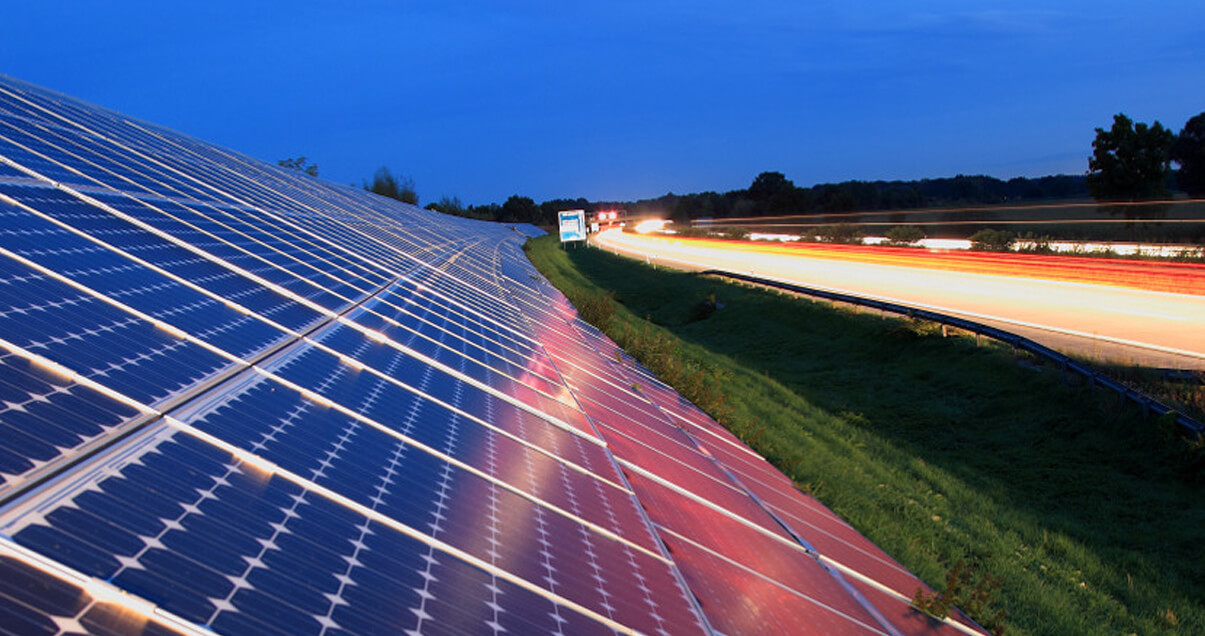 © R. Kohlhauer GmbH | Gaggenau
Text: Oliver Sitt, 18.11.2021
Germany aims to be climate-neutral by 2045, and other countries have set similar goals. But how can these goals be achieved? One thing's for sure: Renewable energies will play a key role. A study conducted by the Fraunhofer Institute for Solar Energy Systems ISE calculated that solar power production will have to increase tenfold by 2045. In concrete terms, this means that the area given over to photovoltaics would also have to increase around tenfold. This is precisely where our roadways could play a vital role.
Green fields. A little further off, a clump of trees. The sun is shining. Trucks are thundering past. Here, the B12 federal highway takes a long curve around a residential area. The houses are isolated from the road by a noise barrier, which stands around 5 meters high and is 230 meters long. Hardly anyone driving along the road will be aware that this is no ordinary noise barrier – it also generates electricity. Only if you take a closer look will you see the shimmering blue tone characteristic of PV modules.
Solar power from noise barriers
The idea of launching a groundbreaking project like this in the small town of Neuötting in Upper Bavaria, Germany, was conceived by EnergieGenossenschaft Inn-Salzach eG (Egis). When the noise barrier was being planned, Egis wasted no time in advocating the idea of utilizing the space for solar power production. The municipality paid for the noise barrier, while Egis paid the extra cost of the modules. However, the electricity-generating noise barrier had to be specially developed, a task performed in collaboration with a solar specialist and the company R. Kohlhauer GmbH that had already developed its own prototype for noise abatement systems.
Noise abatement – plus 50,000 kWh of solar power every year
After years of intensive planning and development, the noise barrier was connected to the grid in 2016. Since then, it has been not only protecting the nearby Montessori school from traffic noise, but also supplying it with electricity. The south-facing noise barrier produces a good 50,000 kWh of power, around 80% as much as would be produced by a ground-based PV system – only without the extra space that a ground-based system requires. Jonas Huyeng from the Fraunhofer Institute for Solar Energy Systems ISE talks to SONNENALLEE about the background to this project: "It's always about finding a compromise between optimum electricity yield and noise abatement. The Neuötting noise barrier stands not vertically but at a slight angle, which helps increase the energy yield with only a minimal reduction in noise abatement." It's a compromise that everyone can live with.
The Fraunhofer Institute also sees the potentiall
The project has already received numerous awards. R. Kohlhauer GmbH now mass-produces the noise barrier under the name "Volta." As a pioneer in this field, the company is currently engaged in a Fraunhofer ISE project focusing on noise abatement and photovoltaics. "One of the aims," says Huyeng, the 33-year-old physicist, "is to optimize the sound absorption capability of the modules. Currently, the sound is merely reflected. But if the solar modules were also capable of damping the sound, this would open up a whole new range of potential applications for the noise barriers."
Research is also being conducted into how existing noise barriers could be retrofitted with photovoltaics. "Combining photovoltaics with noise abatement capability offers a number of benefits," says Huyeng. "Wherever noise abatement systems are constructed, there are also always consumers who can utilize the electricity. After all, these noise barriers are ultimately always designed to protect people from noise. And the installation outlay is almost identical." The fact that no additional space is required is another reason why they enjoy a high level of acceptance among the population.
The fruit of this partnership between Neuötting and Egis is a noise abatement system that produces 50,000 kW of solar power every year.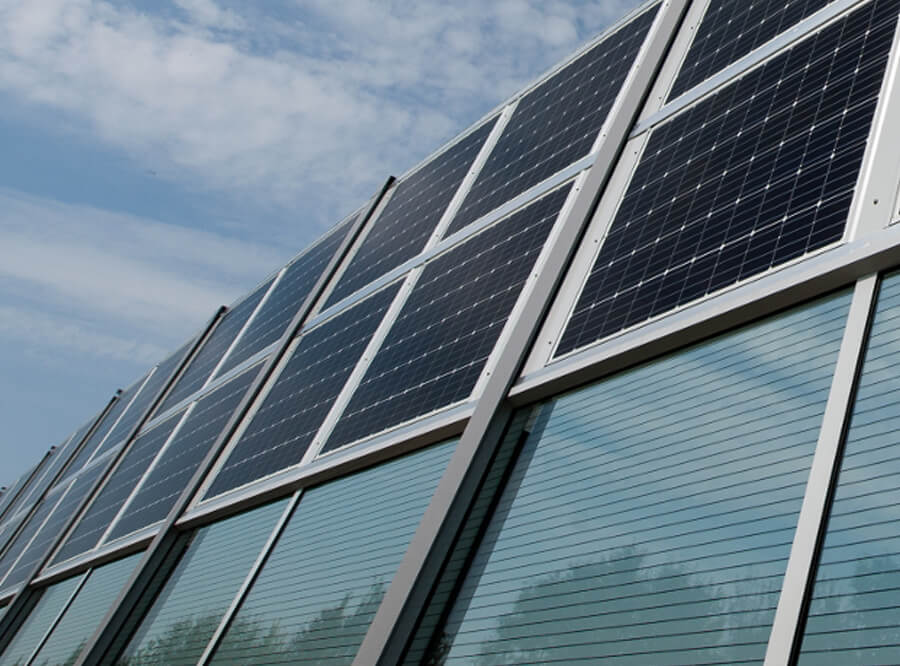 © R. Kohlhauer GmbH | Gaggenau
"The highway operators don't have a clue what to do with the electricity. They don't possess any expertise in marketing electricity."
Project almost thwarted by tendering regulations
The idea of protecting against noise while simultaneously producing electricity sounds like a promising business model, but sales in this segment are currently rather modest. "The problem," says Huyeng, "is that when noise abatement measures are put out to tender under public procurement law, it's always the lowest bidder that snaps up the contract. And there are no provisions for the barrier to do anything more than simply protect against noise." But it stands to reason that a noise barrier with integrated photovoltaics is more expensive than a standard noise barrier, so any provider of a concept like this is always going to be knocked out of the running. Huyeng, one of the leading researchers in this field, sees yet another problem: "The highway operators don't have a clue what to do with the electricity. They don't possess any expertise in marketing electricity." Given this fact, the success of the Neuötting project seems to be something of a fluke because the energy cooperative already had a ready customer for the electricity: the local municipality itself. But the electricity-generating noise barrier now has yet another advocate. The CSU representative Dr. Martin Huber, who sits in the Bavarian state parliament, is keen to see more noise barriers with integrated photovoltaics in the near future – in Bavaria, at least.
Utilizing roads to generate electricity
Only a limited number of noise barriers are suitable for generating electricity – but there are innumerable roads and cycle paths that are exposed to the heat of the sun all day. The potential here is likely huge – even just in terms of surface area alone. Jonas Huyeng confirms this: "A study conducted by our organization quantifies the technical potential at 238 TWh per year." To put this figure in context, RWE's Neurath Power Station – Germany's biggest lignite-fired power station – feeds 31.3 TWh into the network per year.
PV modules, not asphalt
Maybe this is why so many startups and enterprises have tried over the past decade to come up with ways of generating electricity from our road infrastructure. In France, work began on constructing an almost 1,000-kilometer-long "solar roadway." That same year, in the Netherlands, another company unveiled its first solar cycle path, with the company's most recent project being a 330-meter-long cycle path. In Germany, too, a 90-meter-long solar cycle path was built near Cologne in 2018. All these projects are still in the development stage. Challenges associated with road-based projects include not only the wear and tear of sustained traffic but also dirt caused by leaves, tire abrasion and damp getting into the system. (More detailed information about the companies and projects can be found in the info box at the end of the article.)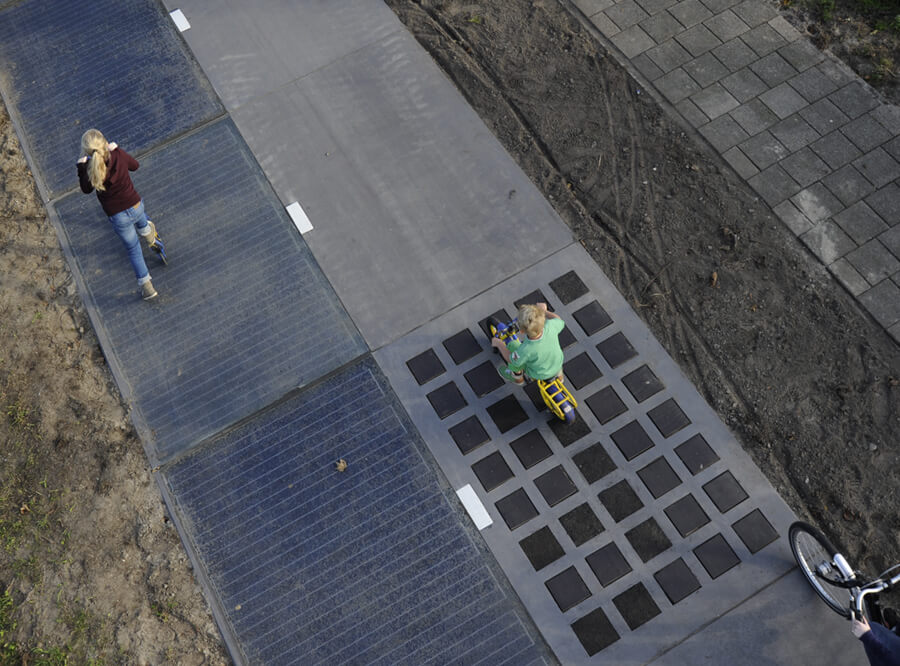 © SolaRoad BV; Den Haag
A cycle path made from PV modules constructed in 2014 by the Netherlands-based Solamove was the company's first solar cycle path.
Photovoltaics overhead, not on the ground
A technically more reliable solution seems to be the one developed as part of the "PV-Süd" pilot project by the Fraunhofer ISE. Here, the PV modules are installed overhead, not along the ground. This has a number of advantages over ground-based systems, including the lack of shading and the fact that the panels are not subjected to the constant stresses and strains of sustained traffic. The challenges, however, lie elsewhere. Even Huyeng was surprised: "Solar canopies over roads are subject to extremely high safety requirements and have to withstand even the forces generated if a truck collides with the canopy structure." But he's optimistic: "If everything goes to plan, we will be launching our prototype project in early 2022."
An 80-meter solar canopy is legally a tunnel
If the project meets expectations, this will open up enormous potential. However, for solar canopies to become more widespread, legislators will have to step in. Huyeng explains: "Currently, any type of road covering that's more than 80 meters long – even if it's open to the sides – is considered to be a tunnel, along with all the safety provisions like escape routes, ventilation, etc. that this entails. That would see costs skyrocket."
Does asphalt last longer if it's covered?
The PV-Süd consortium still has an ace up its sleeve. The canopy, which protects the road against frost and heat, could help increase the durability of the road surface. If this theory is confirmed, that would be an important added value for this technology.
Identifying what's possible
It's amazing to see just how many photovoltaics-based concepts already exist for utilizing our traffic infrastructure to generate electricity. Only time will tell how much economic and ecological potential can be reasonably leveraged in this way over the long run. Or, as Huyeng puts it: "It's not about finding one catch-all solution, but about identifying what's possible." One thing's for sure: There is a whole range of exciting developments that are worth keeping an eye on.
Photovoltaics as a road surface
European companies active in the field of electricity-generating roadways:
Wattways – A brand founded by the French road construction firm Colas. The French government wanted to embed PV modules along around 1,000 kilometers of roads, but the project encountered problems and building work had to be halted. Efforts are being made to improve the system.
SolaRoad – In 2016, this Dutch company unveiled a 90-meter-long solar cycle path. The company has since launched a number of pilot projects for motorized traffic – a bus lane, for example. SolaRoad uses concrete elements in which PV modules are embedded.
Solmove – Instead of working with rigid modules, this German startup uses a "solar carpet" that can be bonded to the existing road surface. In 2018, Solmove unveiled a 90-meter-long solar cycle path, although the project was beset with teething troubles caused by damp and moisture.
A number of projects have also been launched in East Asia. In 2017, China opened a 2-kilometer-long route of solar panels along a city highway, while South Korea can boast a cycle path with a canopy of solar panels.
More like this!
Satellite images show changes on the Earth
Werner Slocum, NREL
Als der Anbau von Heu und Futterpflanzen für das Überleben der Farm von Opa Jack in Boulder County, Colorado, nicht mehr reichte, suchte Enkel Byron Kominek nach einer neuen Einnahmequelle. Und wurde zu einem Vorreiter der Agri-PV, also der gleichzeitigen Nutzung einer landwirtschaftlichen Fläche für die Erzeugung von Nahrungsmitteln und Solarstrom.
/
by Birgit Scheuch
https://sonnenallee.sma.de/wp-content/uploads/2022/10/Agri_PV_Arikel_Header_1205x636_jacks-solar-garden.jpg
636
1205
Birgit Scheuch
/wp-content/themes/enfold-child__userHub/images/sonnenallee_logo.svg
Birgit Scheuch
2022-11-01 16:08:41
2022-11-10 16:25:05
Green Energy with a Side of Vegetables
Beim bidirektionalen Laden kann das Elektroauto den gespeicherten Strom nicht nur zum Fahren nutzen, sondern ihn auch zurück ins Netz oder in ein Gebäude einspeisen.
/
by Anne Pohl
https://sonnenallee.sma.de/wp-content/uploads/2022/08/1205x636_Utrecht_Central_Station_Header.jpg
636
1205
Anne Pohl
/wp-content/themes/enfold-child__userHub/images/sonnenallee_logo.svg
Anne Pohl
2022-08-17 10:30:42
2022-10-26 13:19:39
The city as a real-world lab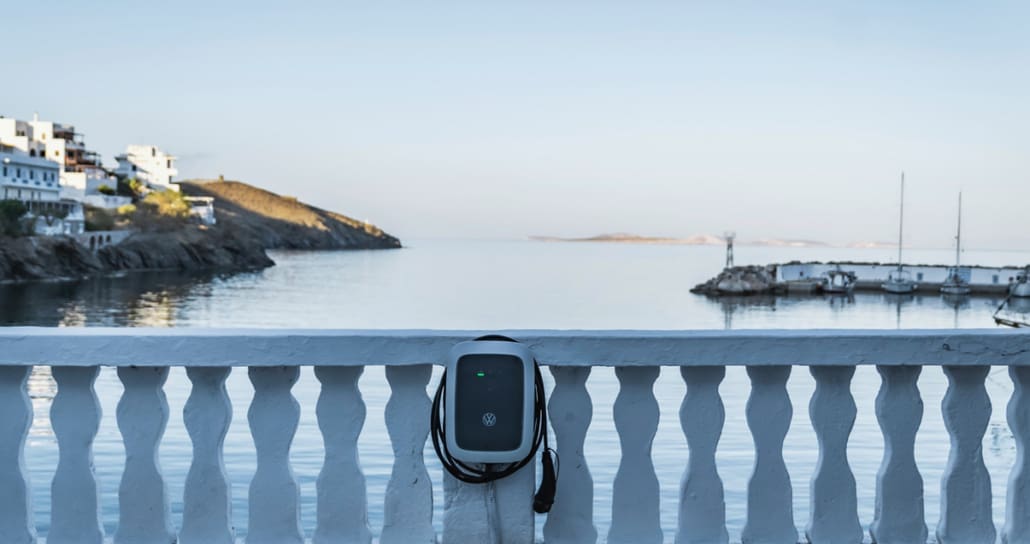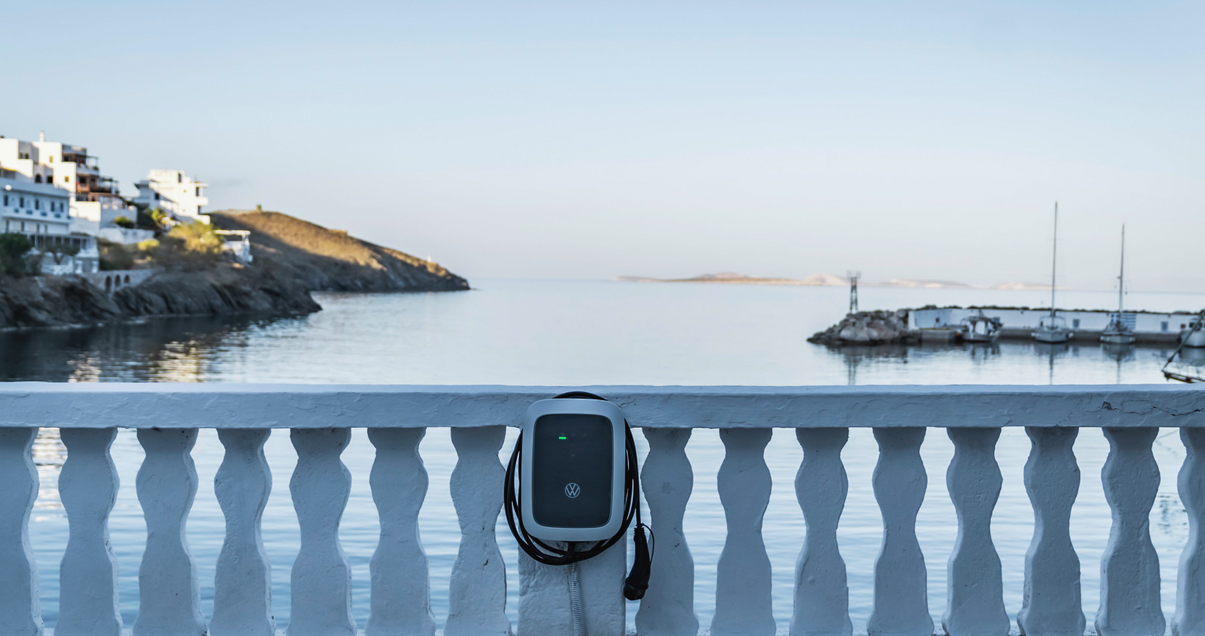 Volkswagen AG
Model project for e-mobility: By 2026, the Greek island of Astypalaia will become a smart and sustainable island with the help of Volkswagen AG.
/
by Anne Pohl
https://sonnenallee.sma.de/wp-content/uploads/2022/06/1205x636_Astypalea_Header.jpg
636
1205
Anne Pohl
/wp-content/themes/enfold-child__userHub/images/sonnenallee_logo.svg
Anne Pohl
2022-07-19 11:50:54
2022-08-11 17:22:46
An island as a laboratory for the future