Electrify your fleet!
Now switch to electric mobility and make an important contribution to climate change.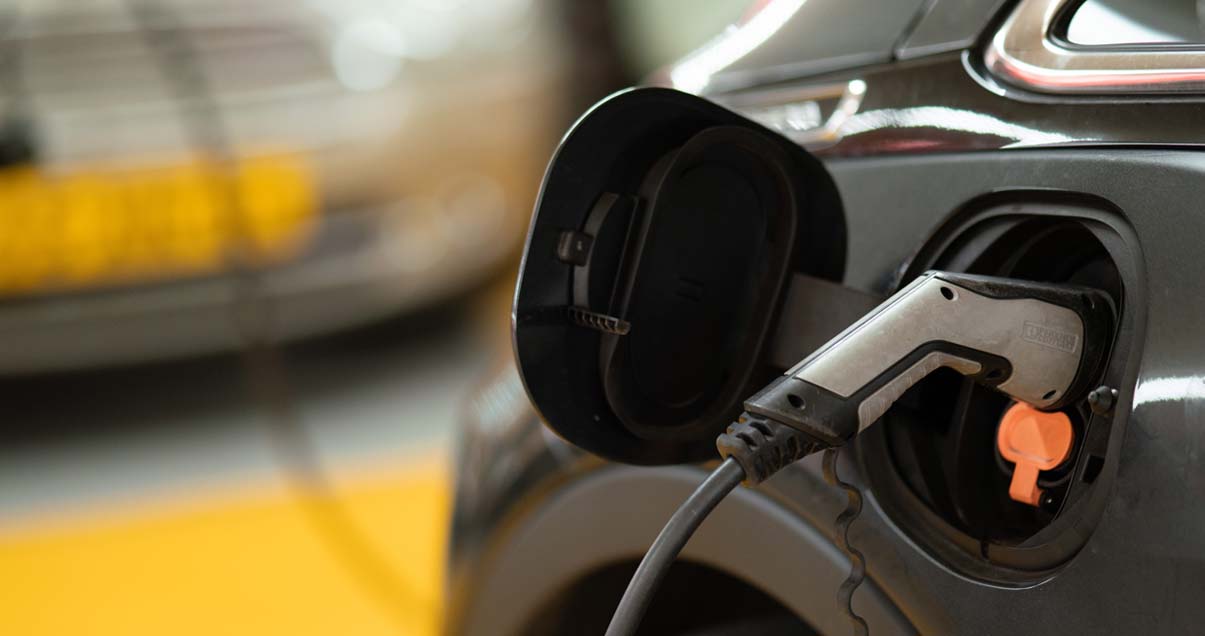 Around two thirds of all newly registered motor vehicles in Germany are company vehicles. If the energy transition is to be a success, however, many more company vehicles will have to be electric-powered in the future. This is why company owners looking to electrify their fleet receive generous support in many European states. We have taken a closer look at the federal funding pools here in Germany and explain here why your company too can benefit from e-mobility.
Electric vehicles have the edge in terms of costs
One of the most widespread preconceptions about electric vehicles is that they are more expensive than conventional vehicles with combustion engines. But the European Federation for Transport and Environment (T&E) discovered that the opposite is the case. If you look at overall operating costs – so not only the purchase price but also expenditure like running costs, taxes, maintenance and resale value – fully electric vehicles have a significant edge over conventionally powered vehicles. In the luxury class segment, for example, an electric vehicle would be 9% cheaper to run than a comparable diesel vehicle, with average savings of more than €4,000 over a four-year period.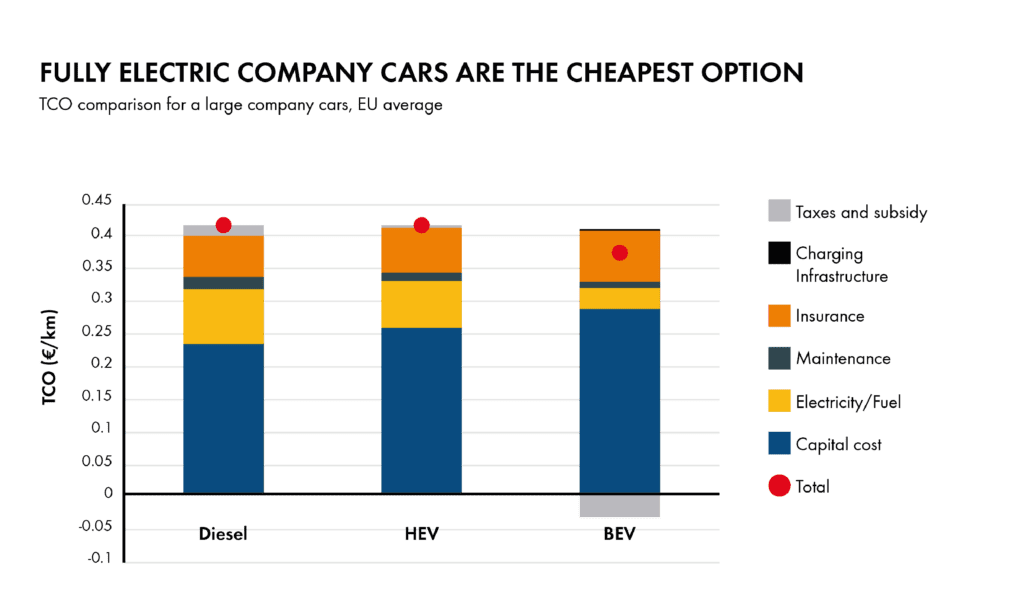 © Transport & Environment
State support for companies looking to make the switch to e-mobility
As reported by the Federal Motor Transport Authority, as many as 42.9% of all newly registered vehicles in Germany in 2021 were equipped with alternative drives – 26% of these with an electric drive (electric/BEV, plug-in, fuel cell). The percentage of fully electric cars increased by 103% to 13.6%. In addition to tax advantages for drivers of electric company vehicles (just 0.25% of the gross list price of BEVs is required to be taxed as a non-cash benefit; for plug-in hybrids, this figure is 0.5%), drivers making the switch to electric vehicles also currently benefit from a range of state incentive programs and subsidies designed to facilitate the transition.
New loan schemes for sustainable mobility
Since the transport sector plays a pivotal role in climate change, the government is offering a new funding program for companies, municipalities and official bodies investing in sustainable transportation. The standard variant of the new "Sustainable Mobility" investment loan allows companies, municipalities and official bodies to apply for up to €50 million in loans with a term of up to 30 years, allowing them to both electrify their fleet and upgrade their charging infrastructure.
More information about the "Sustainable Mobility" investment loan can be found here.
More money for electric vehicles
The "Klimaschutzoffensive für den Mittelstand" (climate protection offensive for small and medium-sized enterprises) motor vehicle program was also recently revised. It can now be used for investments in electric vehicles together with the environmental bonus, which companies need to apply for separately from the Federal Office of Economics and Export Control. And what's more, this program comes with a climate protection subsidy that amounts to 3% of the loan amount and does not need to be paid back!
More information about the climate protection offensive for small and medium-sized enterprises can be found at KfW, and you can find out everything you need to know about the environmental bonus at BAFA.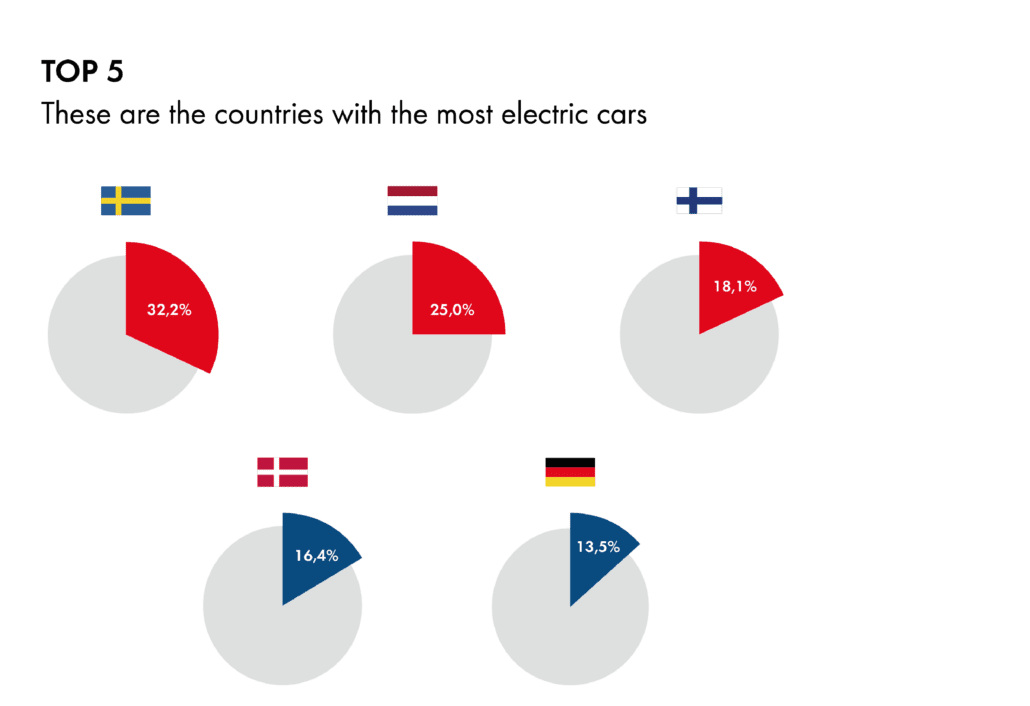 sales of new cars in 2020 in %, acea.auto
Federal government subsidies for charging stations
Following the highly successful wallbox program for private individuals, companies and municipalities can now get in on the action. This new subsidy scheme, which was launched in late November 2021 and requires companies and municipalities to submit applications to the state-owned investment and development bank (KfW), provides for each newly installed charging station an investment subsidy amounting to 70% of the total eligible costs (acquisition, connection and installation). The subsidy is capped at €900.
So that you too can benefit from this subsidy, 100% of the charging energy must originate from renewable sources – that is, for example, from your own PV system or an electricity supply contract with a green energy provider (electricity tariff from 100% renewable energies | SMA Solar) . As with many other incentive programs, you have to apply for the subsidy before starting your project.
More information about the subsidy and a list of eligible charging stations can be found at www.kfw.de/441 (companies) and www.kfw.de/439 (municipalities).
© acea.auto
Environmental bonus and innovation premium
Since mid-2020, anyone planning on buying an electric car has been eligible to receive from the federal government, by the end of 2022, an innovation premium in addition to the environmental bonus. Subsidies of up to €9,000 and €6,750 are available for fully electric vehicles (BEVs) and plug-in hybrids respectively. The eligibility criteria for subsidies for plug-in hybrids were tightened at the beginning of the year: Now, plug-in hybrids must either emit no more than 50 grams of CO₂/km or offer a minimum, all-electric range of 60 kilometers. You can find an up-to-date list of eligible vehicles on the website of the Federal Office of Economics and Export Control.
Tax benefits for electric vehicles
Up until December 31, 2030, owners of newly registered electric vehicles will not have to pay any road tax for ten years. If the vehicle is sold within this period, the new owner also benefits from this exemption for the remaining period.
If you also use a fully electric company car with a gross list price of up to €60,000 for private purposes, only 0.25% of the gross list price needs to be taxed monthly as a non-cash benefit. For plug-in hybrids and electric cars with a higher gross list price, this figure is 0.5%. And what's more, according to the coalition agreement, plug-in hybrids will be eligible to take advantage of this tax benefit only if the vehicle is actually used in electric mode more than 50% of the time. This will likely herald an end to the days when charging cables still neatly packaged in their original bags could commonly be found in the trunks of electric vehicles returned after leasing.
In the European Union, 568,816 electric vehicles were newly registered between January and September 2021 – almost twice as many as in the same period the year before.
Source: statista
Selling your greenhouse gas quota
At the beginning of 2022, owners of electric vehicles were given the opportunity to convert their CO₂ savings into hard cash by having them certified and then selling the amount that falls short of the greenhouse gas emissions quota to oil companies. There are numerous providers who will relieve you of the hassle of applying by doing the job for you in exchange for a share of the premium.
Federal government funding database
The funding database on the website of the Federal Ministry for Economic Affairs and Climate Action contains numerous additional funding options designed to support you in your e-mobility ambitions. In addition to funds for specific stakeholder groups such as the Sozial & Mobil fleet exchange program for companies active in the health industry and social services, the individual federal states also provide a range of regional schemes.