Here is unfortunately over, try it with a different term ...
You want to be surprised?
Randomize it!
Text: Felix Bürkle, 03.03.2021
How can we stop the resolution of the climate crisis from always dropping off the agenda and bring more momentum to this topic? By pulling out all the stops – which is exactly what the Countdown initiative has decided to do with its reassuring slogan, "We can change climate change."
Countdown was created by the non-profit organization TED, the aim of which is to make concerns and ideas accessible worldwide. It has mainly become popular through its conferences, during which fundamentally anyone can present a topic in less than 18 minutes.
Thousands of recorded talks from these live-streamed conferences on scientific, economic and technological topics, design and entertainment are available in many languages on its video platform. This is also the case for the kick-off event of the Countdown project, the Global Launch in October 2020 – TED's first conference available free of charge.
Around 50 speakers and presenters explained, narrated and appealed, called in their own way for the urgently necessary halving of greenhouse gas emissions by 2030 – for a safer, cleaner, and fairer world, as stated in the event announcement.
Prominent figures of the climate movement, such as Al Gore, Prince William, Jane Fonda, Ursula von der Leyen, Pope Francis, Olafur Eliasson, and António Guterres were represented via short talks. The whole event was completed by explanatory videos, lectures and appearances by artists, such as Prince Royce. There were also 600 local TEDx Countdown events around the world.
Information: This is why our climate system is suffering.
Why is Earth heating up? Where does all this CO2 go? What does climate-neutral actually mean, and why is the 1.5-degree goal so important? Though these questions may seem trivial, it is crucial that we all understand what is currently happening and what it can lead to. This is illustrated in a short and simple manner by the animations in the Countdown program – with transcripts and subtitles in the most widespread languages. Perfect for forwarding and circulating.
What does climate-neutral actually mean?
Where does all this CO2 go?
Ideas: The problem can be solved.
The cement industry is one of the biggest CO2 generators. Alternatives to conventional cement manufacturing have already been researched and tested, as observed by Project Drawdown partner of the Countdown initiative. Implemented on a large scale, they could have an enormous impact on climate. A fascinating process, which could apparently be scalable, was presented at the Global Launch by the CEO of Solidia Technologies: cement that even binds CO2!
Regarding concrete wastelands: Due to their construction and population density, cities are one of the main causes of climate change on the one hand, and on the other, they are extremely vulnerable to its consequences – which is why starting there is particularly worthwhile. This was made clear at the Countdown event with three contributions on the topic.
The environmental and data scientist Angel Hsu campaigns for projects that are equitable for all city residents, not just the wealthy ones. The Human Smart City  pioneer Carlos Moreno explains the "15-minute city," in which the everyday errands of every city resident can be done in  immediate proximity. Decentralization, multi-use buildings, bicycle paths and new neighborhood services: This sounds appealing and, according to Moreno, the mayor of Paris, for instance, has already implemented some of this. An exhaust-free future is possible, according to the internationally active expert for clean mobility Monica Araya, and this trend is coming from the cities. Something relevant for the entire world population – not just the urban one – and already frequently practiced: Paths to climate-friendly food for the world population, as presented in the "Can we create the perfect farm?" animation.
Inspiration: We can take a leaf out of this book.
Trees are a recurring motif in the Countdown Global Launch videos: During a car ride, the mayor of Freetown in Sierra Leone, Yvonne Aki-Sawyerr, had an insight. After all, the loss of our forests represents more than the loss of a few shady spots, she says. It represents the loss of our viability. Now, she is having a million trees planted by the end of her term in two years.
The climate and gender activist Ernestine Leikeki Sevidzem has also planted 86,000 trees with her organization in order to regenerate the Kilum-Ijim Forest in Cameroon. However, that alone is not enough, she says. "We have to raise a 'forest generation' that lives and thrives in harmony with nature." Lastly, the award-winning author Elif Shafak put herself in a tree's shoes, so to speak – "If trees could speak" – thereby illustrating the unifying power of stories .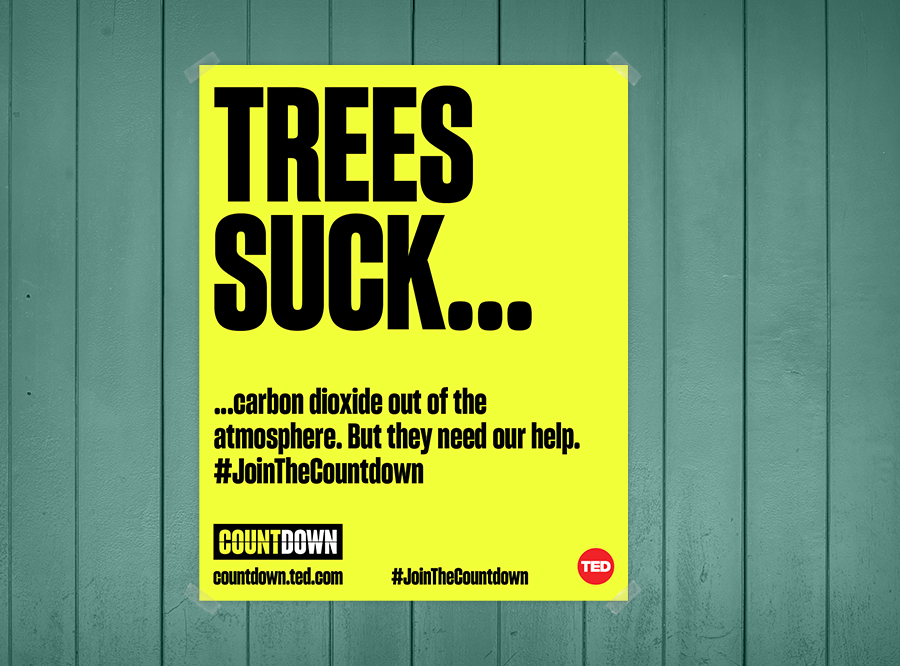 The TEDx initiative Countdown networks actors and Player to solving the climate crisis.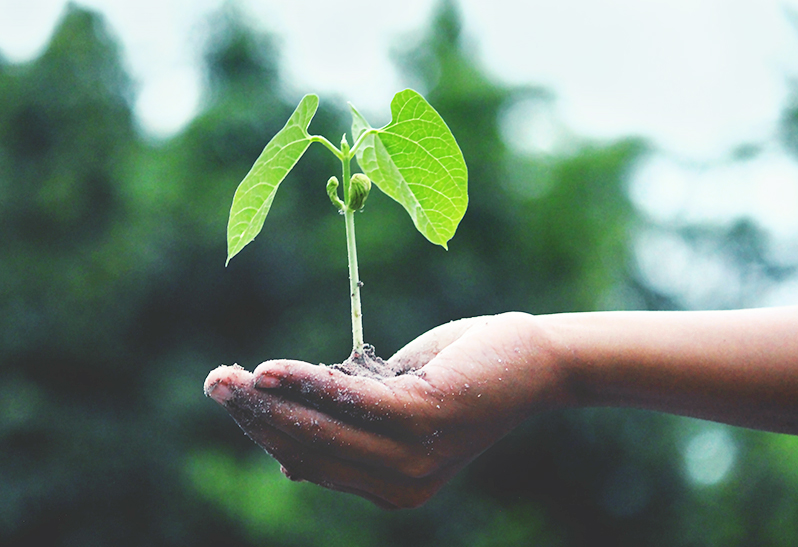 It is time to act. Everyone. Now.
During the Global Launch, the Swedish scientist Johan Rockström, known for his research on the planet's stress limits, urgently warned of the planetary emergency that will occur if we initiate further processes for which there is no off button.
Anyone who owns a brain can do something about it – as it says on the Countdown poster. Companies, investors, sports organizations, universities and cities are invited to get involved in relevant organizations; for private individuals, the initiative recommends committing to a personal contribution to climate protection with Count Us In or to organizing a climate discussion. The idea behind this is anchoring the topic of climate in the general consciousness by talking about it regularly. Countdown provides tips, tools, and thematic impulses for this in-person or virtual exchange in small groups.
Outlook: What happens next.
A Countdown summit is scheduled for October 2021 in Edinburgh, once again accompanied by hundreds of local events around the world, during which Countdown wants to present a blueprint for the CO2-neutral future. We're looking forward to it.
Hier gibt es mehr!
Satellite images show changes on the Earth
In an interview with Miriam Weber from Hydra Marine Sciences, we talked about the opportunities of bioplastics, the major risks of loss and the decisive influence of consumers.
/
by Angelika Brandt
https://sonnenallee.sma.de/wp-content/uploads/2021/04/Hydra_1205x636.jpg
636
1205
Angelika Brandt
/wp-content/themes/enfold-child__userHub/images/sonnenallee_logo.svg
Angelika Brandt
2021-04-08 16:28:13
2021-04-08 16:28:14
No more plastic?
Veggie, vegan and tasty? How Rügenwalder turns cold cuts, sausages and schnitzel from European soy to an eco-friendly alternative.
/
by Mareike Scheffer
https://sonnenallee.sma.de/wp-content/uploads/2021/03/1205x636_Soja.jpg
636
1205
Mareike Scheffer
/wp-content/themes/enfold-child__userHub/images/sonnenallee_logo.svg
Mareike Scheffer
2021-03-29 09:10:11
2021-03-29 09:10:11
The Success of Veggie Sausage
How does the sustainable city of tomorrow look like and what can we do to make it happen today? Insights to this current problem and the need for action are offered by Susanne Peick, Cornelia Zuschke and Mike Hosey.
/
by Birgit Scheuch
https://sonnenallee.sma.de/wp-content/uploads/2021/03/Headerbild_SustainableCity.jpg
636
1205
Birgit Scheuch
/wp-content/themes/enfold-child__userHub/images/sonnenallee_logo.svg
Birgit Scheuch
2021-03-24 18:39:07
2021-03-25 08:44:51
The sustainable city