Regeneration times three
Moorland PV for climate targets, nature conservation and the energy transition
"How creepy it is to cross through the fen." So goes the famous line penned by the German poet Annette von Droste-Hülshoff back in 1842. But the days when the moorland of poetry was depicted as a "gaping purple-black expanse" where the "water yawned blackly" are long gone. In Germany, a new trend is emerging, one in which more and more politicians, scientists and businesspeople are revealing themselves to be fans of these wetlands because of the key role they play in achieving climate targets. Let's take a look at Lower Saxony, where former moorland is now being transformed into carbon-sequestering energy centers.
Over the past 250 years, almost 95 percent of moorland in Germany has been drained to make way for peat extraction, agriculture and forestry. Moorland the world over is being drained by the square kilometer to free up land for plantations.
These days, however, we know that moors are incredible carbon sinks – provided, that is, they lie in or under water. When they are drained, the carbon sequestered inside them over millennia is released and these carbon sinks become giant emitters of greenhouse gases. Around 4 percent of global greenhouse gas emissions – so twice as much as those from commercial air traffic – originate from former moorland.
It's no coincidence, therefore, that moorland is enjoying something of an upturn in popularity in political circles. Global, European and national moorland protection strategies have been formulated and disseminated. As much former moorland as possible has to be submerged ("rewetted") if the climate protection targets are to be achieved. But who wants to give up perfectly good arable land so that it just lies there "doing nothing"? Very little research has been conducted into alternative land use concepts other than simply rewetting.
"From my primarily climate protection perspective, moorland PV is an economically viable and so, to the relevant extent, practicable use of restored moorland – now that the potential of buildings and 'sealed' land is exhausted. Moorland PV offers significant potential for reducing emissions and cutting costs for the general public. Planning procedures performed in close consultation with nature conservation authorities and associations also support synergies in relation to flora and fauna. But it is vital that all stakeholders act in concert and that research into moorland PV is ramped up." – Dr. Arndt Piayda, Thünen Institute of Climate-Smart Agriculture
The situation is especially critical in Lower Saxony, the state with the highest density of moorland in the whole of Germany. Of the roughly 400,000 hectares of moorland, almost 75 percent has been put to agricultural or forestry use. So the task now is to find usage scenarios for these areas – much of which are privately owned – that represent an economically viable alternative. One such scenario is "moorland photovoltaics," when solar power is generated on moorland that is simultaneously being restored through rewetting. Some farmers in the administrative district of Cuxhaven are currently thinking about how they can protect their moorland while at the same time securing their income.
Around 37 percent of the agricultural land in this region is located on former moorland. "Livestock farming and feed production," says Ulf Larschow of EE-Plan GmbH. The company specializes in planning electrical energy systems and supports approval procedures in accordance with the Federal Immission Control Act. It is currently in the process of planning two moorland PV systems. "Ten years ago, this was the most profitable milk-producing region in the whole of Germany. The cows here produce 11,000 liters of milk per calf, which yields a €4,000 profit per hectare of land."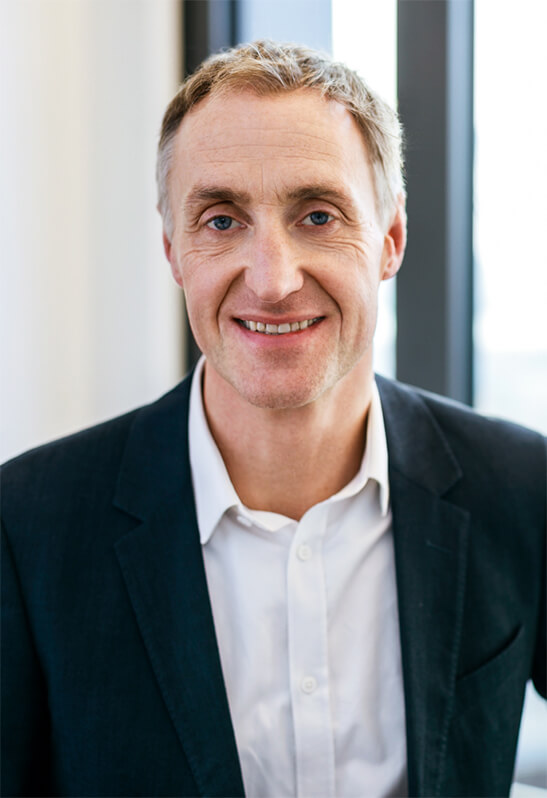 EE-Plan GmbH
Ulf Larschow, general manager of EE-Plan GmbH, lives with his family in a self-built passive house that uses less than 15 kWh of energy per square meter and year.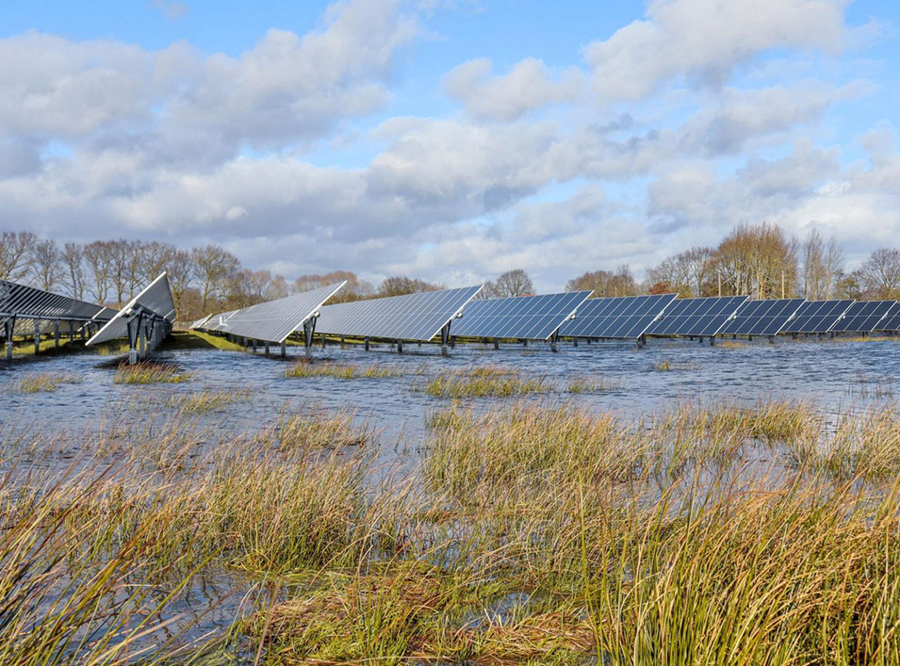 Wattmanufactur
The real "family silver" lies under water
At the same time, according to the Thünen Institute (the Federal Research Institute for Rural Areas, Forestry and Fisheries), areas like these emit between 30 and 50 metric tons of greenhouse gases per year and hectare. "The impact is invisible to the naked eye. The raised bog here has fallen by around 1.20 meters over the past one hundred years; it's basically collapsed in on itself," says Ulf Larschow. "And that's directly linked to falling water levels due to high-yield dairy farming."
If the German Federal Government now stops merely thinking about moorland conservation strategies and starts implementing agricultural methods that are more climate-friendly, what are now latent concerns among farmers could turn into genuine existential fears. Plans to ban the construction of new buildings, which would also rule out farm expansions, are being discussed. It's almost impossible now to obtain loans for these kinds of projects.
Everyone knows that intensive agriculture on former moorland has no future from a climate protection point of view. Some farmers and their associations fear "creeping expropriation," emphasize the tradition of their industry and defend themselves against state influence.
In the collective municipality of Land Hadeln, however, a handful of dissidents have established societies for developing two moorland PV centers: the interest groups IG Neue Energien Ahlen-Falkenberg Süd GbR for the Ahlenmoor in Ahlen-Falkenberg and IG Bovenmoor.
Ulf Larschow finds this "really exciting, because project development is self-directed and not the work of some outside investor with a finished plan." This agricultural land is akin to the family silver. Selling it to a nature conservancy as a way of offsetting other interventions in the natural landscape was not an option for his fellow campaigners. The team is now getting to grips with the details of subject matter, which for almost all of them is unchartered territory.
Understanding and protecting ecosystems
The two moorland PV sites in Land Hadeln are very different: one is located in a raised bog, the other in a low bog (see info box). The Ahlenmoor – which has never been used for extracting peat – is very high, lying some three to four meters above the surrounding landscape. "Before this area can be restored, we have to build a wall of compressed peat around the 255-hectare site," says Ulf Larschow.
There's no way conventional PV supports could be used here, he says, "because it would be impossible to anchor the modules in the peat. And if we puncture the peat body of this higher-level basin, this would create what is effectively an outlet and drain the moor."
"This is why we'll use floating PV systems. Some of them would lie in the water, partially poking out, but I think that if we use translucent glass–glass modules, then the moss that covers and forms the raised bog will be fine. Unlike with floating PV systems, we'll have to rope the modules only here and there in order to anchor them."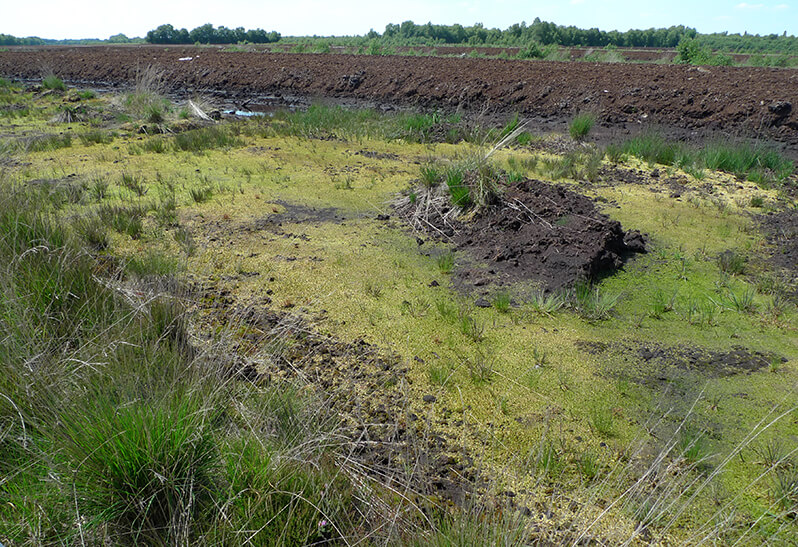 mitak.org
The second moorland PV system is to be constructed on the 330-hectare low-level Bovenmoor. Grass grows on the surface, which is wet but not submerged, and is grazed and kept short by water buffalo and certain breeds of sheep. But the depth of the peat varies considerably here. "We have to find out how deep the moor is: one meter, or seven to eight meters? Where the moor is flat, we can use conventional support systems – pile-driving posts. These don't harm the moor because they lie in the groundwater. Where the moor is very deep, however, we'll use a floating system too."
A super-effective way of combining the energy transition with climate protection
"All this is extremely complex," says Ulf Larschow. The planning process alone is expected to take three to six years. The projects can be financed by various means including the selling of climate and nature conservation certificates for the rewilding of moorland. This could be realized in cooperation with the Nature and Biodiversity Conservation Union Germany (NABU), which is already in the process of rewilding a neighboring site (without PV systems) as a compensation area. Third, the generation of green energy for which there are already potential customers from the German Farmers' Association and retail industry.
"This is a super-effective way of combining the energy transition with climate protection," says Ulf Larschow, citing one of the main motivations for his interest in this whole new field. And: "Renewable energy is all about the outdoors, and planning always takes place in an agricultural context," he says, drawing upon his around twenty years of experience in the industry. "I didn't want to mess around; I wanted to team up with others, so I reached out to the German Farmers' Association. This was another reason why I was drawn to this place."
For the people here in Land Hadeln, it's always been about approaching each other. Service providers and investors keen to work hand in hand with the local landowners and energy cooperatives are all welcome here. The PV farms are to be integrated in landscape and leisure parks in harmony with the neighboring nature conservation areas and a nearby recreation area, which would help to enhance the quality of life in the region and open up tourism opportunities. Ulf Larschow is confident: "All stakeholders – from the nature conservation authorities through to the local residents – value this thoughtfulness."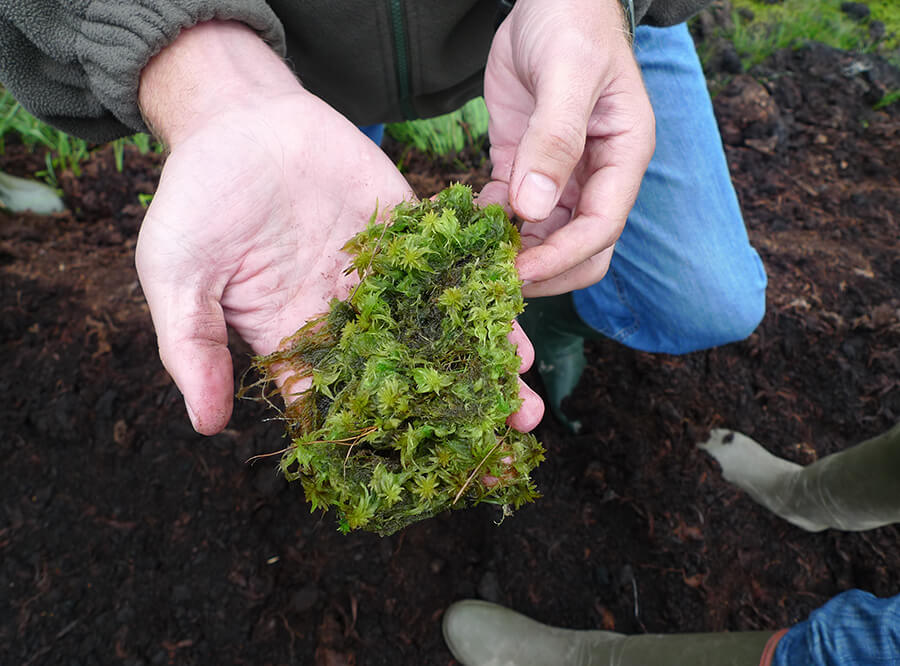 mitak.org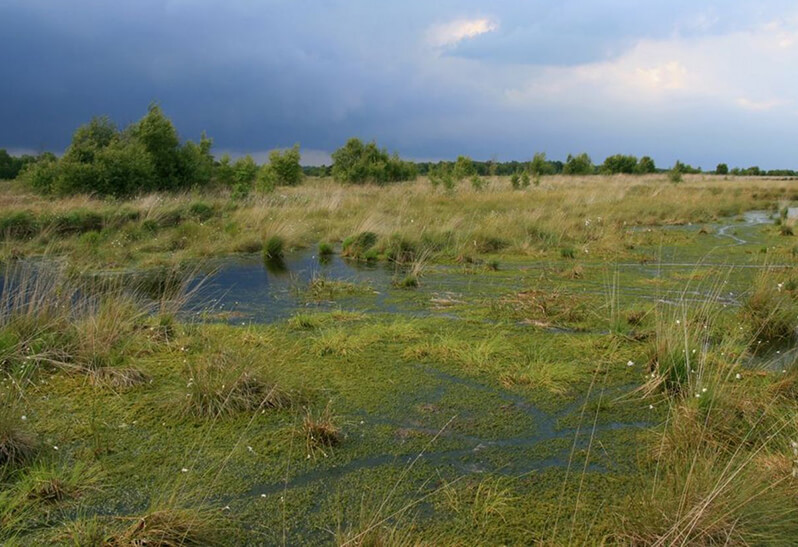 Thünen-Institut, AK
Photovoltaik auf wiedervernässten Moorböden?