Smart Solutions for Saving Energy
How AI, high-tech functional clothing and other smart ideas are going to help us save energy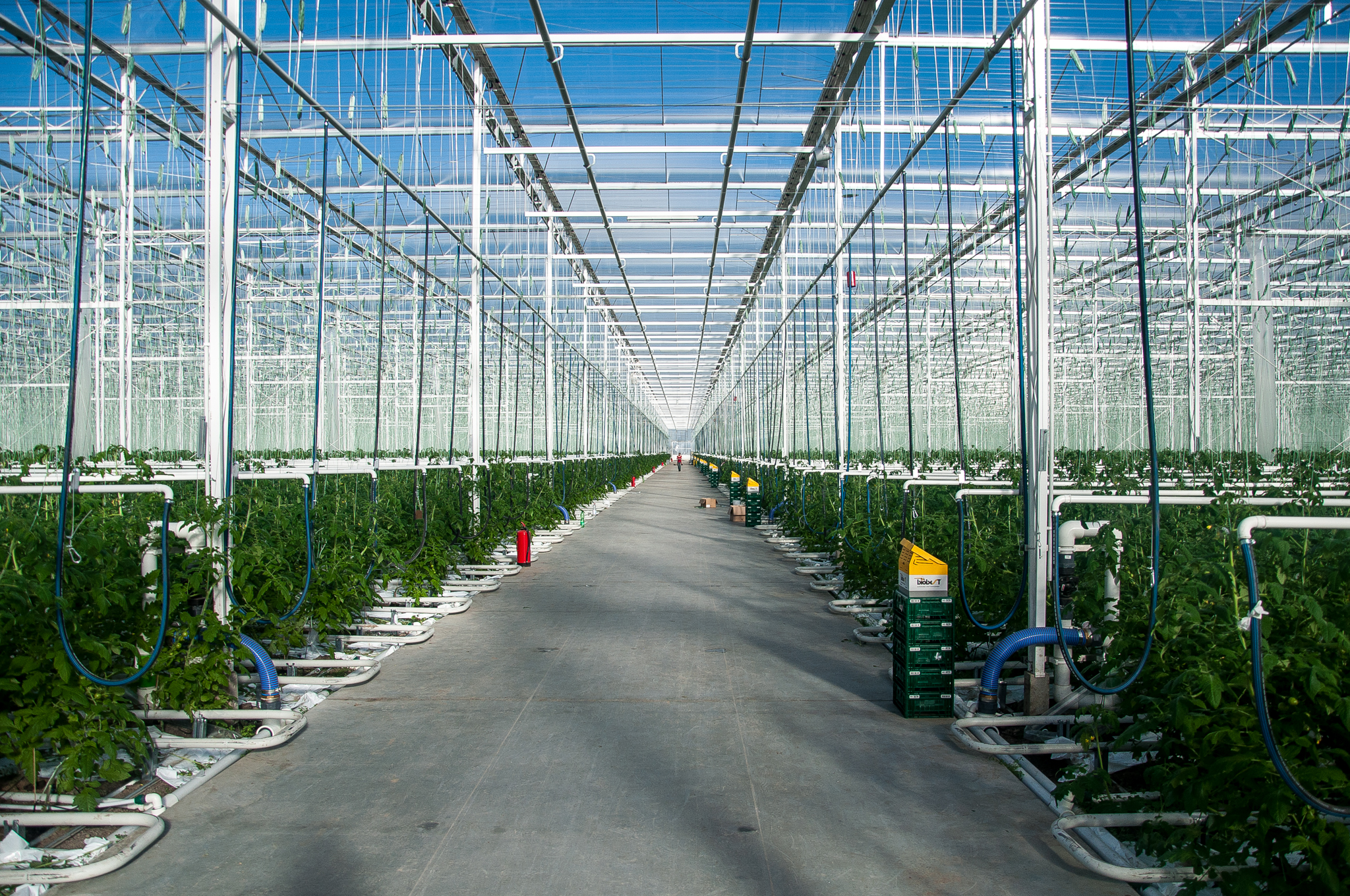 The best form of energy is energy that we don't use in the first place. After all, let's be honest: pinning our hopes on the energy transition to renewable resources alone would be too short-sighted. Be it the use of AI or even new ways of using heat – if we look outside the box, we'll find some exciting concepts for saving energy. And never has there been a more fitting time for such concepts than now.
The country in crisis mode
Electricity and oil prices have never been higher. Gas, too, and that is also in more than short supply. Nobody wants to turn the heating on. In Germany, we are bracing ourselves for a cold winter. German hardware stores are already reporting shortages of radiators and fan heaters. And the number 1 gift in the "Kitchen, home & living" department of one well-known online retailer is the XXL wearable blanket that will turn every person who feels the cold into a warm yeti. Klaus Müller, President of the Federal Network Agency, recently gave a warning in the Tagesspiegel that Germany's power grid faces collapse this winter. On the national homepage of the consumer advice center, the otherwise pervasive warnings about telephone fraudsters and parcel delivery scammers have been replaced by tips on how to heat and ventilate the home correctly and how to cut down the use of electricity and warm water. And life hacks for saving energy are everywhere on YouTube right now.
We need to make our energy supply climate-neutral
Germany's leading climate experts all agree that we need alternatives to gas and other fossil fuels. Claudia Kemfert from the German Institute of Economic Research (DIW), for instance, said recently in a tagesschau interview that "We need to take a step back from expensive energies and move toward renewable energies as they will drive prices down – including on the energy exchange." Her colleague, Berlin professor Volker Quaschning, spoke quite plainly in a recent episode of the Markus Lanz talk show "If we want to live up to the Constitutional Court decision on climate protection, we would need to have an energy supply in place by 2035 that is completely climate-neutral; in other words, one that can be sustained without the combustion of oil, coal and gas. Where are we now? We have not even a 20 percent share of renewable energies, 1 percent nuclear power, and the rest is made up of oil, coal and gas. And now, within the space of 15 years, we need to go from this 20 percent to 100 percent. Otherwise, the crisis we're facing now will be nothing compared with the scale of the crisis that will await us down the line."
Save, save, save!
Whether we will manage to develop renewable energies within the space of 15 years to the point where we can abandon fossil fuels entirely remains to be seen. Until then, we need to put on warm clothes and save energy. This will be a mammoth challenge not just for your average consumers, but also for industry, trade and services in particular. According to a Statista study, of the 999 terawatt hours of gas that were consumed in 2021, around 50 percent was used by this group (37 percent industry, 13 percent trade, retail and services) and only around 31 percent was attributed to households. So industry and trade have just as much of a duty in this regard as any other private individual.
Machine learning
As nearly all production equipment comes fitted with a variety of sensors nowadays that control all manner of processes, it would make sense to use them to save energy as well. Although use of artificial intelligence (AI) is still in its infancy in Germany, it holds considerable potential for the future. Let's imagine, for example, that a connector has been poorly fitted and that this error is leading to problems with the electronics in an entirely different area. The time-consuming troubleshooting process ultimately costs energy as well. AI-controlled technology has the potential to make such errors a thing of the past.
AI is already being used at Mercedes-Benz AG. The MO360 Data Platform that the company co-developed with Microsoft launched in mid-October. Mercedes-Benz is building a network on this cloud platform among its 30 or so international passenger car plants in a bid to make its car production more efficient, more resilient and more sustainable. "If we spot bottlenecks in the supply chain, for example, we can redirect resources to production plants across our entire network so that we can prioritize the manufacture of our low-emission premium products," said Jörg Burzer, Member of the Board of Management of Mercedes-Benz Group AG.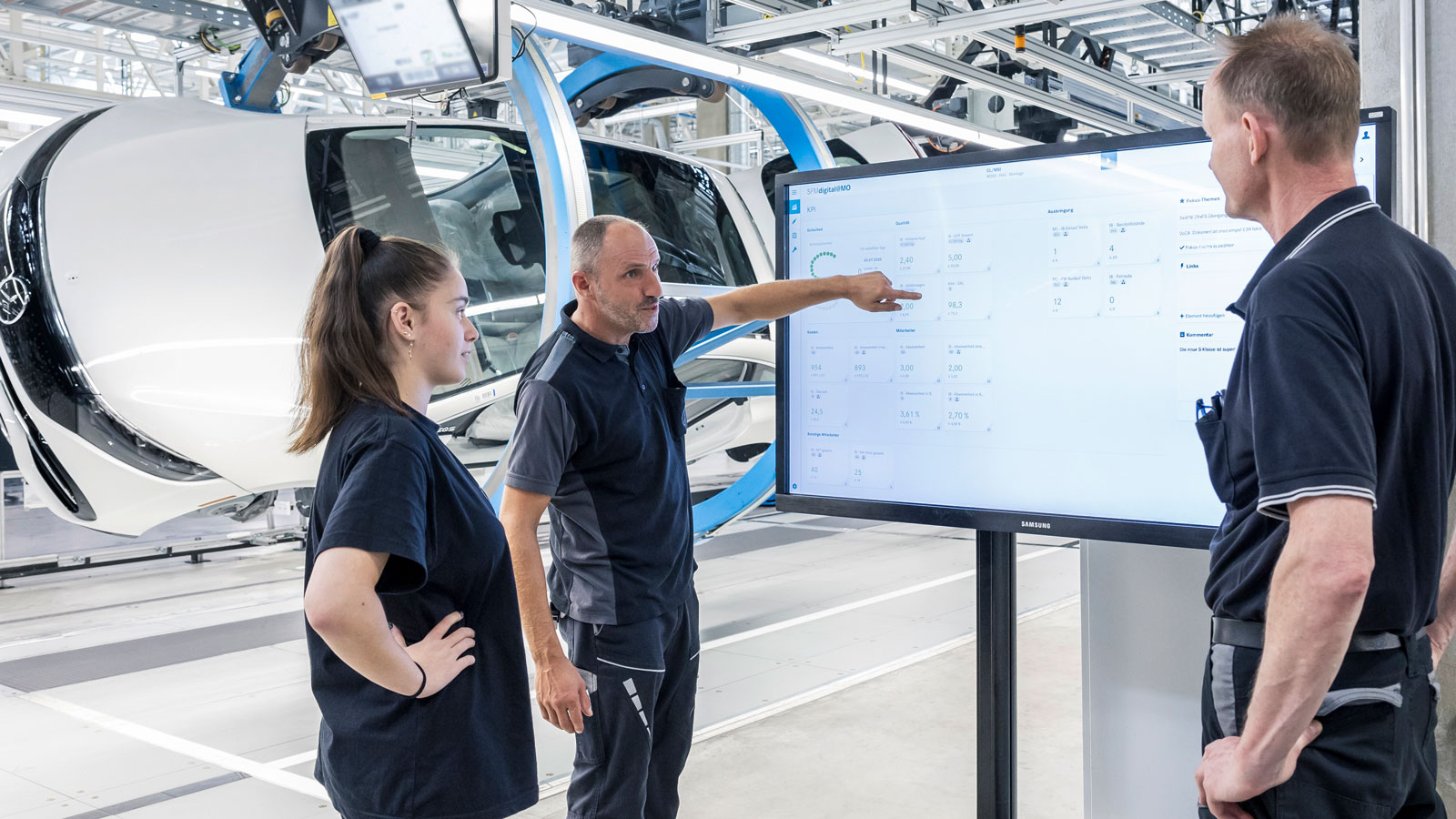 Mercedes Benz AG
With the new, central data platform MO360, teams can instantly analyse and visualise production data.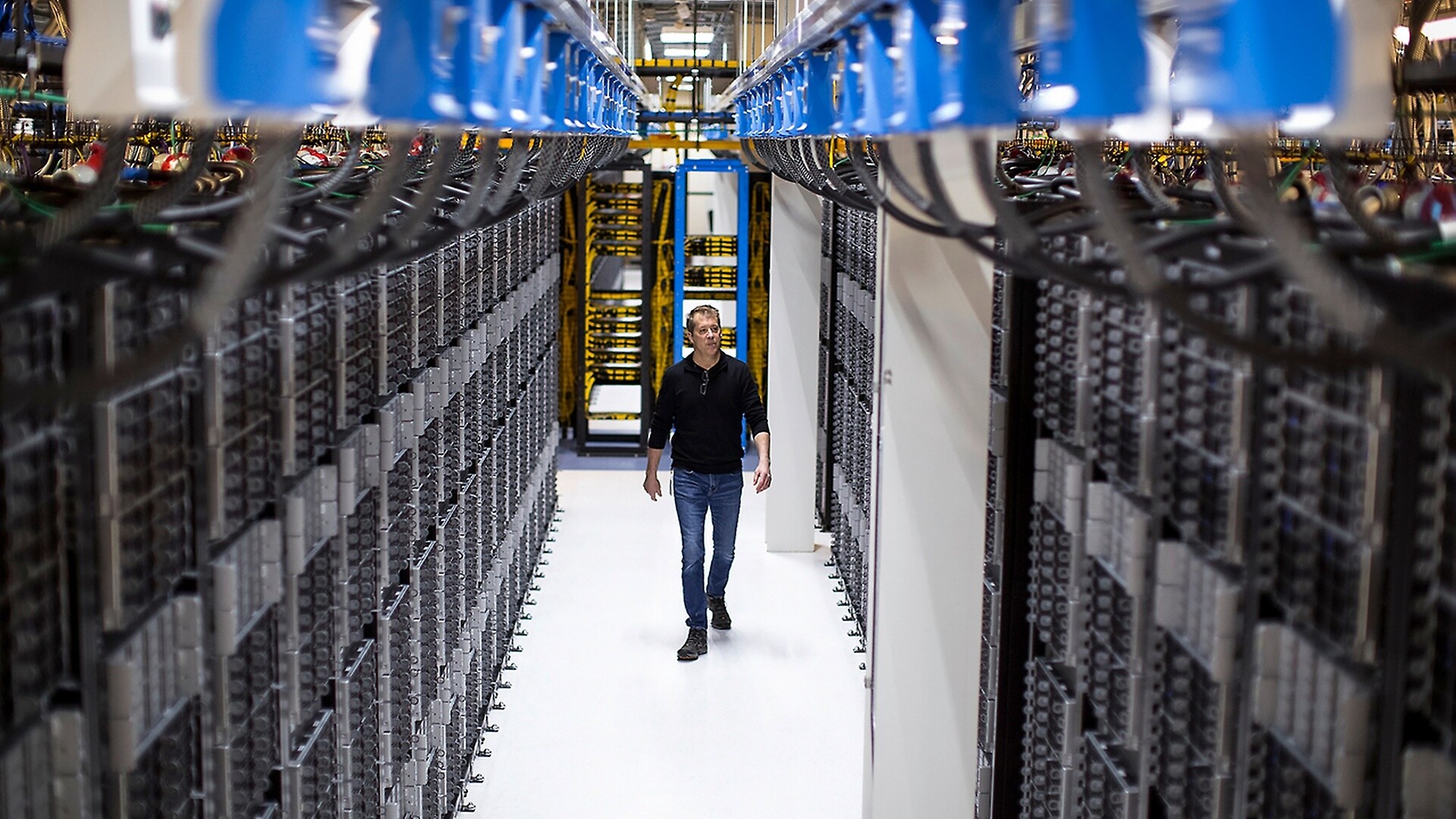 Mercedes Benz AG
This means no costly production downtimes. And while the actual cars roll off the assembly line in the plants, the teams can use virtual images to monitor production. AI merges the physical and digital worlds together. The positive effect this has is that production processes can be simulated and refined virtually, and optimized processes save energy. The AI-controlled analysis tool is also helping Mercedes to track and optimize its CO2 emissions, energy and water consumption, and waste management.
Tomatoes using biogas to keep warm
Artificial intelligence will also have a role to play at organic farmer Rainer Carstens' farm in Schleswig-Holstein, Germany. At the startup Naiture founded in 2018, scientists commissioned by Carstens are working on a weeding robot that can tell the difference between carrots and spinach, for example, and undesirable weeds, and will be able to undertake some of the manual labor normally carried out by harvest workers.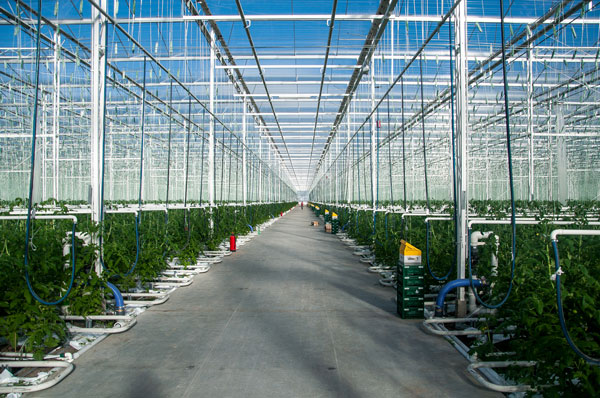 Westhof Bio
Organic farmer Rainer Carstens pictured in front of his biogas plant, which heats a 4-hectare greenhouse.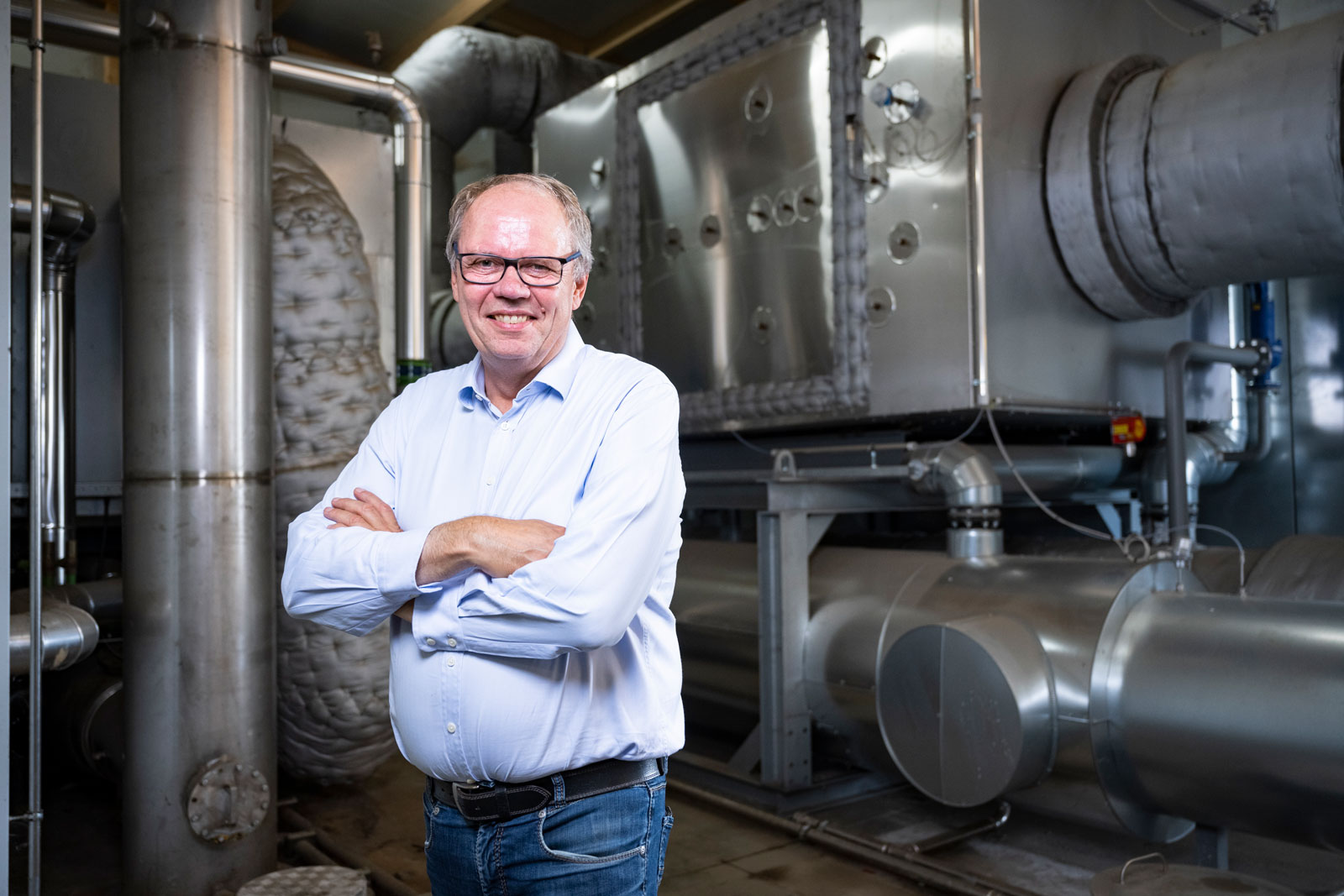 agrarheute
Rainer Carstens has been an organic farmer since 1989. "I've always had the drive to be sustainable, use our precious resources sparingly, and leave behind fertile and healthy land for my children." His original 100 hectares has now grown to over 1,000 hectares. He works this land with his company, Westhof Bio Group, according to Demeter and Bioland organic farming standards. On his land in Dithmarschen, he grows grains, cabbages and vegetables like carrots and peas, most of which are delivered to retailers or processed at his own organic freezing company.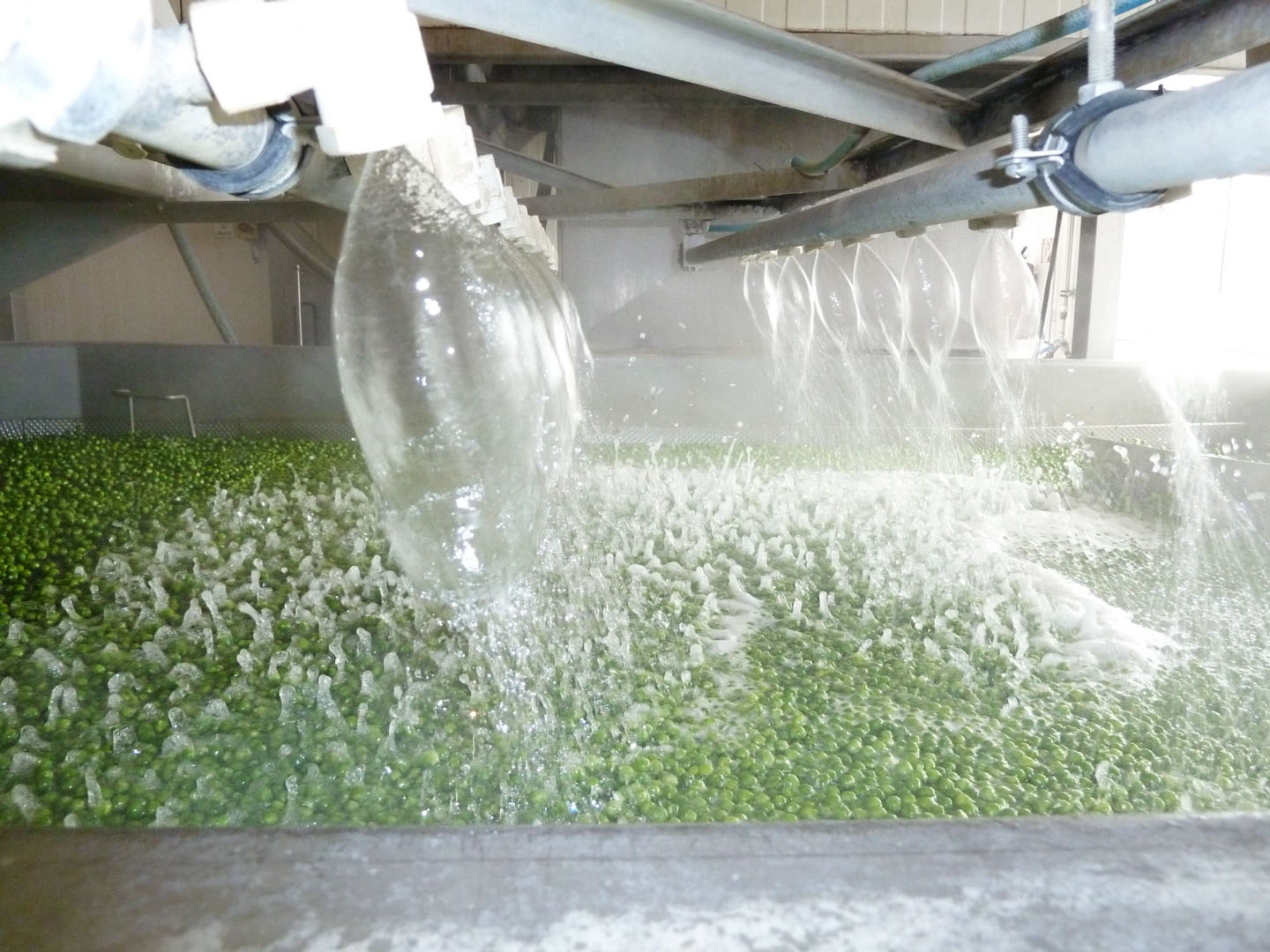 Carstens also owns two of the largest organic greenhouses in Germany, which house 10 hectares of thriving tomatoes and peppers. The farm has its own biogas plant, which supplies the energy for this. It is "fed" with organic ferment, and the gases generated are converted into electricity in the combined heat and power plant. Carstens' higher aim is to make his business entirely energy-neutral at some point. "We're in the process of building a new organic freezing facility with a large-scale battery-storage system. When it's up and running at the end of 2023, we will have nearly reached our goal!" In recognition of his dedication and his unique energy and nutrient cycle, the magazine agrarheute recently presented him with the Ceres Award for "Energy farmer of the year."
Smart textiles
Saving energy is a subject that motivates Ralf Ruszynski, energy consultant at SMA Solar Technology AG, as well. But for the Kassel-based civil engineer, the subject isn't done with once he gets home from work – in fact, quite the opposite. A few years ago, he instigated his own private energy transition with a heat pump, PV system and electric car, and is now producing more electricity than he can use in his household. "In 2013, we had an energy consumption of 30,000 kilowatt hours for electricity, gas and petrol," said he. "Today, we consume just 3,000 kilowatt hours of electricity a year, but we feed 11,000 kilowatt hours into the grid, which means that our net energy consumption has gone down by 90 percent!"
In Ruszynski's home office, like in all the rooms on the upper floor of the house built in 1964, the radiators have been turned off for over 12 years. How does this work? Instead of heating the rooms, Ruszynski uses individual climate control. He was inspired here by the example of Japan. Whereas in Germany it is commonplace to heat whatever environment you're in, the Japanese tend to move toward the heat source. That might be an oven or a kotatsu, a kind of table heater that has been used for centuries. When Ralf Ruscynski is sitting at his desk in his home office, depending on what the outside temperature is he wears thermal clothing or smart textiles – shirts and jumpers that have special properties designed to warm the body and warm insoles in his shoes. "I'm very comfortable in my workroom, even when the room temperature is just 12 °C," he explained. "The only thing that matters to me is that all the parts of my body stay at body temperature, which is 37 °C. Once this is the case, I really don't care what the air temperature is."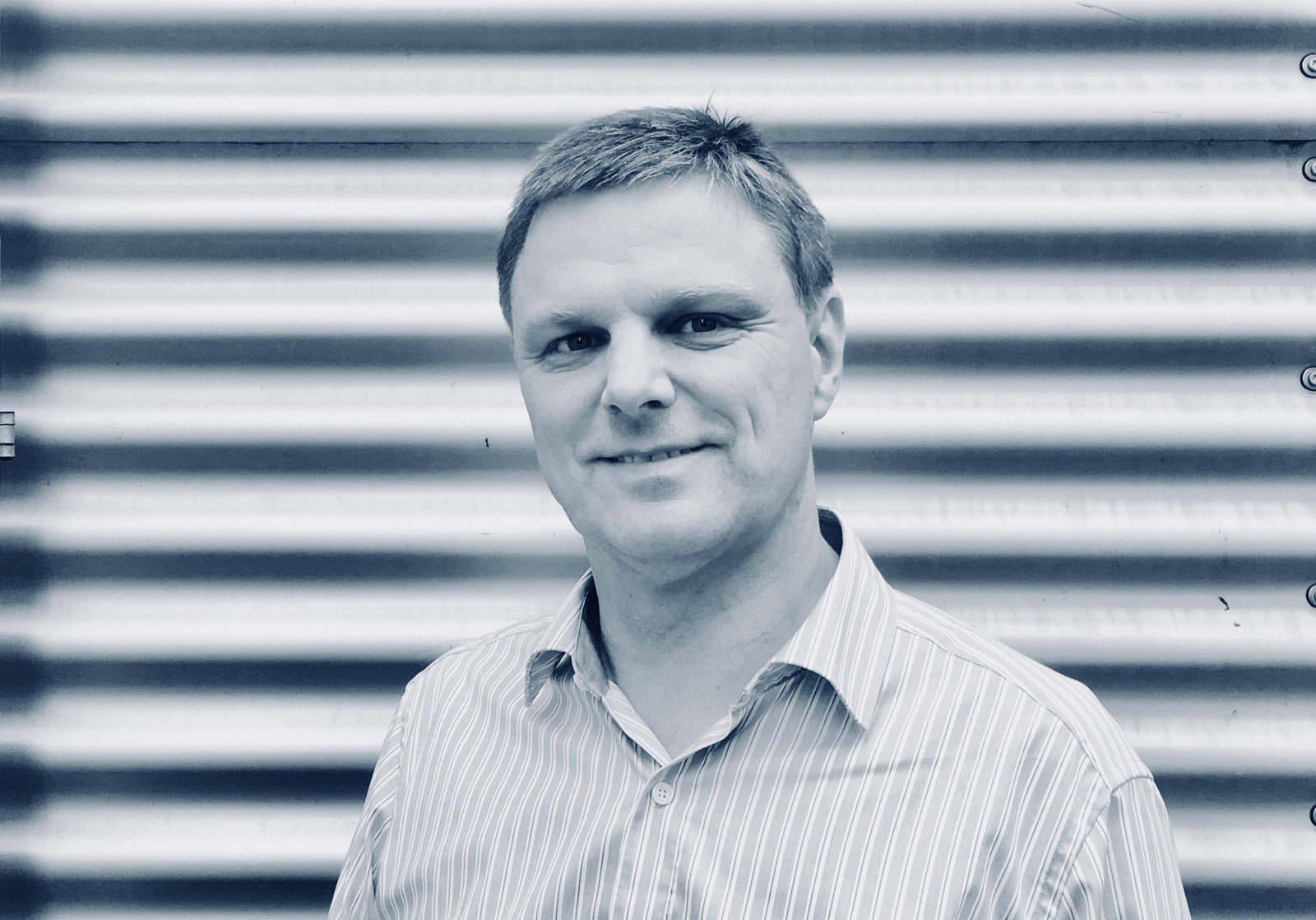 "If the body temperature is 37 degrees in all parts of my body, I don't care about the air temperature at all" Ralf Ruszynski, Energy Consultant at SMA Solar Technology AG
Research is currently being undertaken on the next phase of smart textiles at the Leibniz Institute of Photonic Technology (Leibniz-Institut für Photonische Technologien e.V.) in Jena. Scientists there have worked with Spanish textile manufacturer E. Cima to develop a material that uses thermoelectric effects to convert body heat to electricity. This electricity can then be stored in a rechargeable battery and supplied to other smart applications.
Room for new ideas
In times like these, it would be tempting to just bury our heads in the sand and carry on as we were. We hope that our examples provide you with some inspiration to open your mind to new ideas and broaden your horizons – after all, giant leaps can also start with small steps.