Solar power for hundreds of thousands
Mini-grid systems are providing electricity for 300 villages in Senegal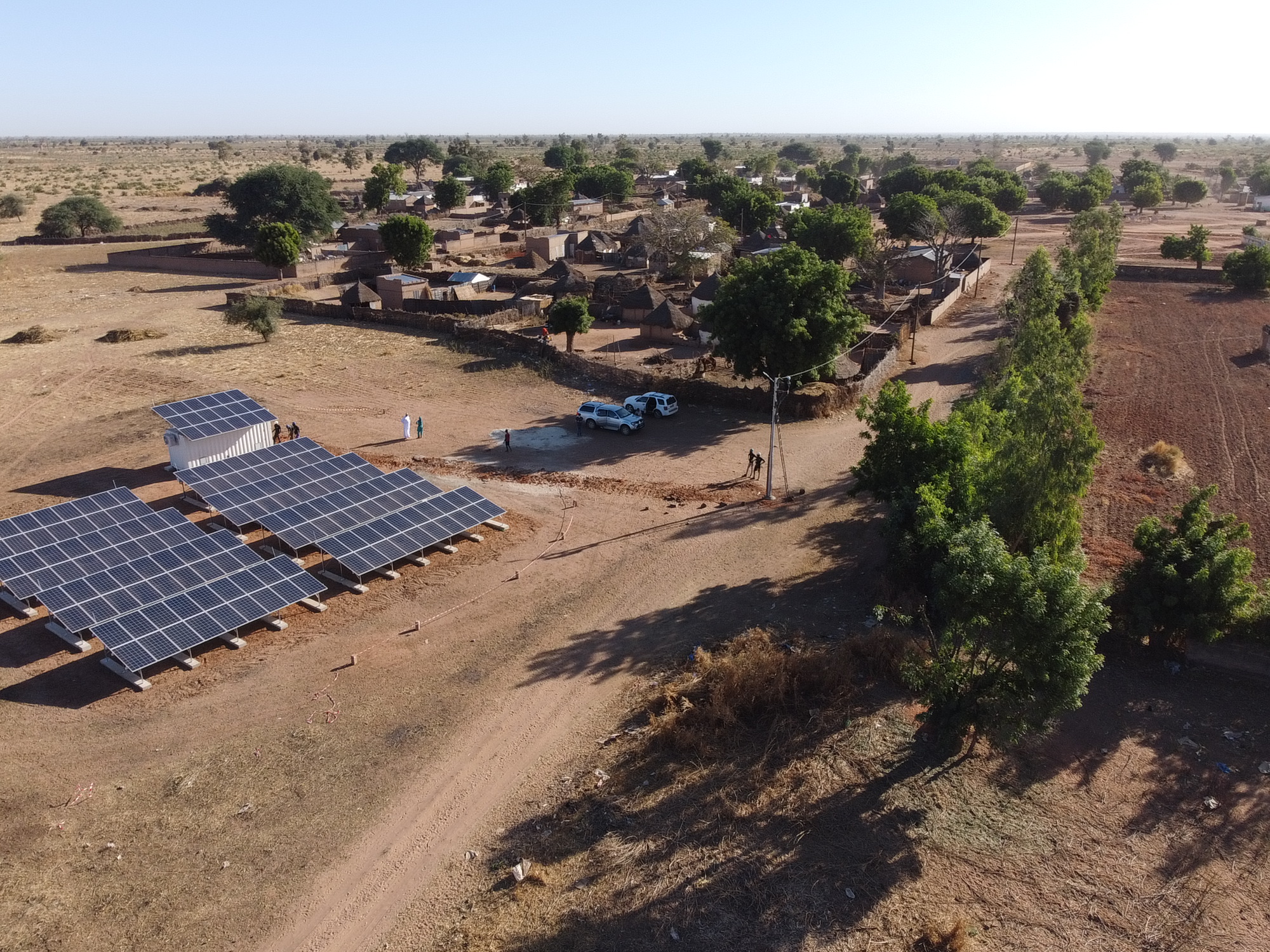 In the West African country of Senegal, electricity is still scarce for many people, especially in rural areas. Solar-powered mini-grid systems are now set to bring light to the darkness of the villages at night. The ASER300 project will provide hundreds of thousands of rural residents with permanent access to electricity for street lighting, food refrigeration and a better healthcare system.
"At first, the women, children and men of the village would meet each other in the evenings beneath the new streetlights to enjoy the moment when the lights came on. Their reactions are impossible to describe; very rarely do you see so much shared joy," said Sawdiatou Mbaye, ASER300 coordinator and communications manager. The ambitious infrastructure project is providing 300 Senegalese villages with solar energy.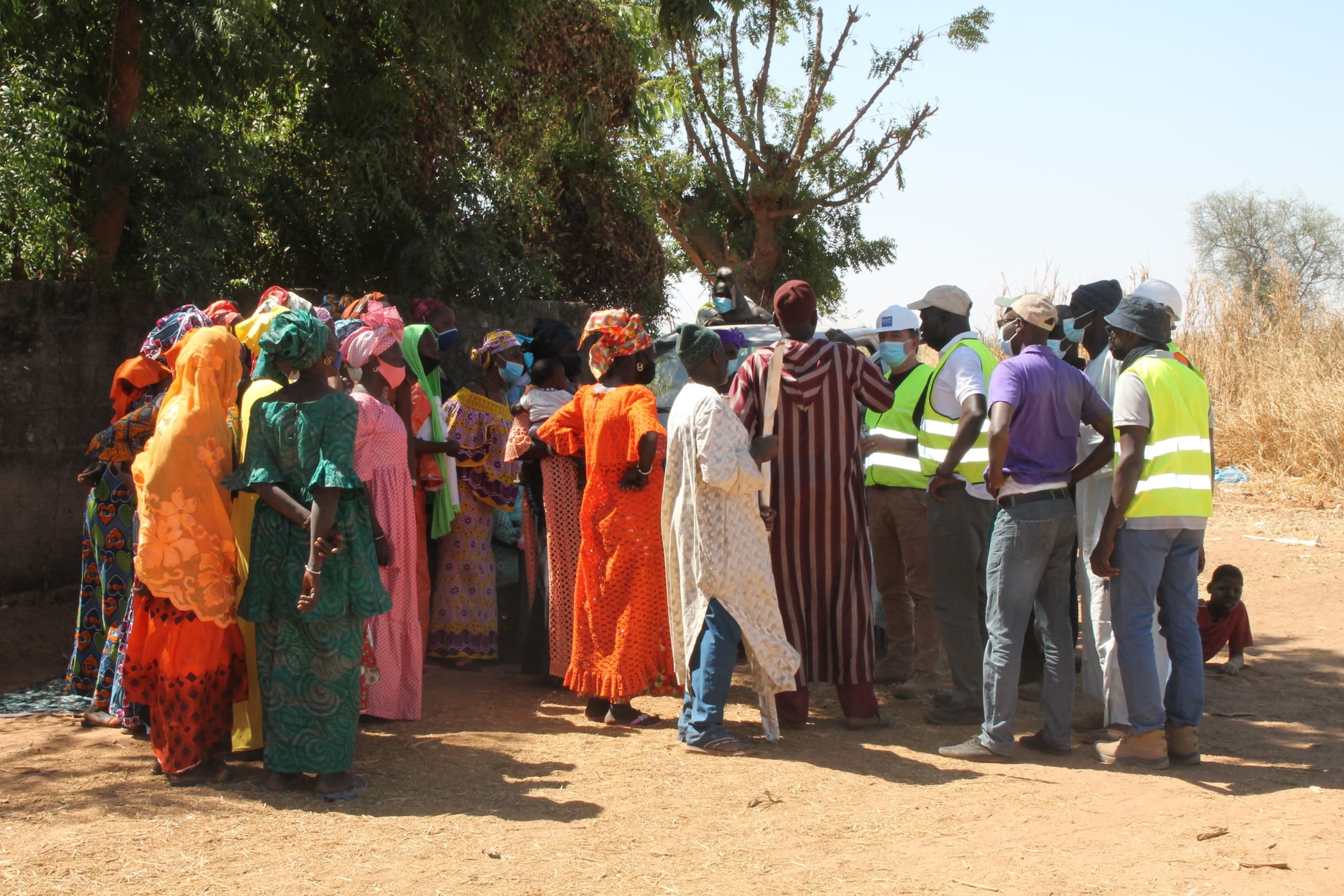 Sawdiatou Mbaye works for Asantys Systems GmbH (bottom right)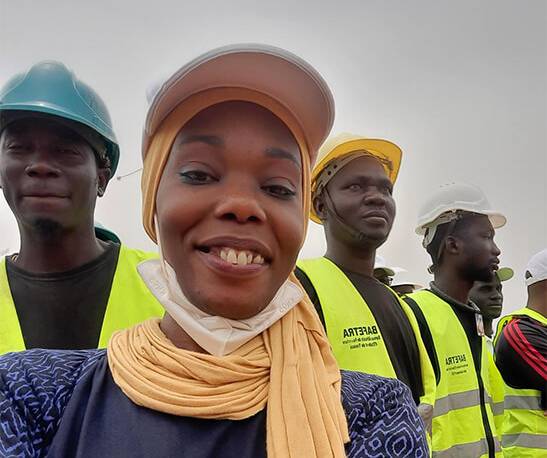 One project, 300 villages
The 300 villages of the ASER300 project – named after the relevant authority, ASER (Agence Sénégalaise d'Electrification Rurale – Senegalese Rural Electrification Agency) – will receive solar-powered mini-grid systems that operate independently of a utility grid. By the time the project is complete in 2024, around 200,000 people will have reliable access to electricity. More than 3,600 new LED streetlights will light up the night. Water pumps will run electronically and food will be kept refrigerated around the clock. The focus of the project is to provide a renewable and decentralized energy supply.
Positive impact straight away
"The villages in the ASER300 project have all had little or no secure access to electricity," said Tim Malzfeld, sales manager at SMA Altenso GmbH, which is supplying the project with SMA inverter solutions for the off-grid systems. "Things that are commonplace for us, such as switching the lights on in the evening or cooking with an electrical appliance, have not been possible in these villages until now. For me, this is one of those projects of the heart where solar energy is having an immediate positive impact on people's standard of living."
A dedicated utility grid is being created for the off-grid systems, which can even be expanded to provide electricity to even more people in the regions in the future. Remote regions far away from cities or islands can count on having a supply of self-sufficient, decentralized and reliable green electricity thanks to solar-powered mini-grid systems – an energy model that works amazingly well in more places than just rural Senegal, even under extreme climate conditions.
Clean energy for the "Gateway to Africa"
Senegal is often referred to as the "Gateway to Africa." The republic at the western tip of the continent is a transportation hub between Africa, Europe and the Americas. An independent and stable democracy since 1960, the country stands out as one of the fastest growing on the continent. To continue its economic growth, Senegal is investing a lot of money in energy infrastructure. The goal is to electrify the entire country by 2025 and guarantee a constant supply of electricity for all 17 million inhabitants. The urban utility grid is already well developed, but in rural areas only one in two people has a reliable source of electricity – yet half the population lives in these areas. At the same time, the current energy mix is based on coal, oil and gas. So it is time for a rethink. Particularly because signs of climate change are also evident in Senegal – even more than in many other countries around the world. Persistent droughts and a lack of rainfall are posing ever-greater challenges for agriculture. Young people in rural areas are migrating to big cities in search of a better future.
Electrification makes many things possible
Better education, economic advancement, new opportunities for social interaction, but also things we take for granted are being made possible by electrification. "Light after sunset, radio and television, fans, mobile phone networks, refrigerators, water pumps, grain mills – all this is now available permanently and reliably," added Lutz Ekhoff, project director for ASER300 at GAUFF Engineering. He has been managing infrastructure projects in Africa since the 1980s. From Central Africa, his path led him to Senegal in 2017, and he has been managing the ASER300 project since September 2021. GAUFF Engineering, based in Nuremberg, Germany, is acting as the client representative for ASER (Agence Sénégalaise d'Électrification Rurale), an authority subordinated to the Ministry of Petroleum and Energy, and is responsible for planning, delivering and installing the 300 systems. (Read more about the project's progress and the use of PV technology on our SMA Sunny Blog.)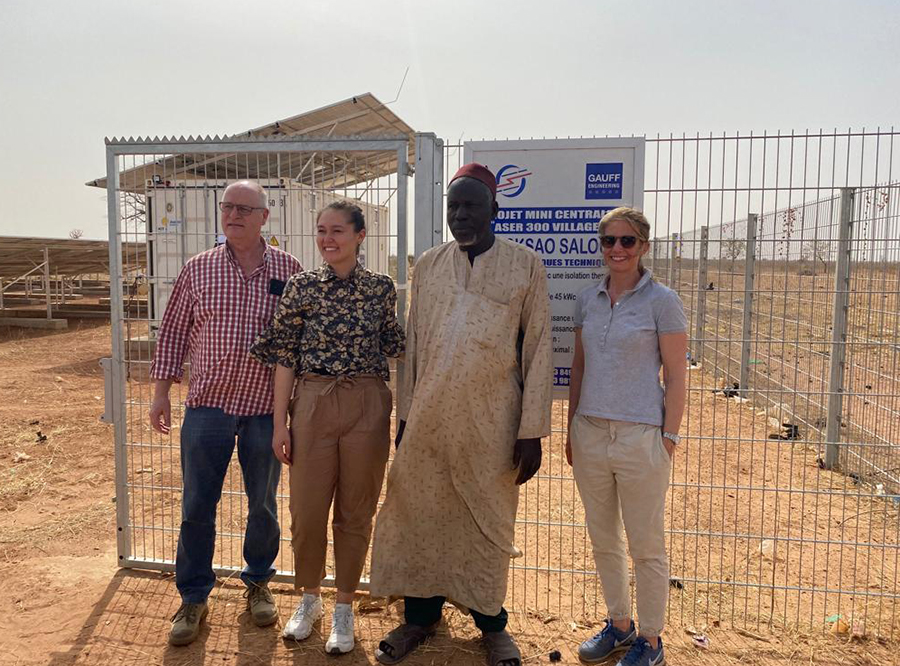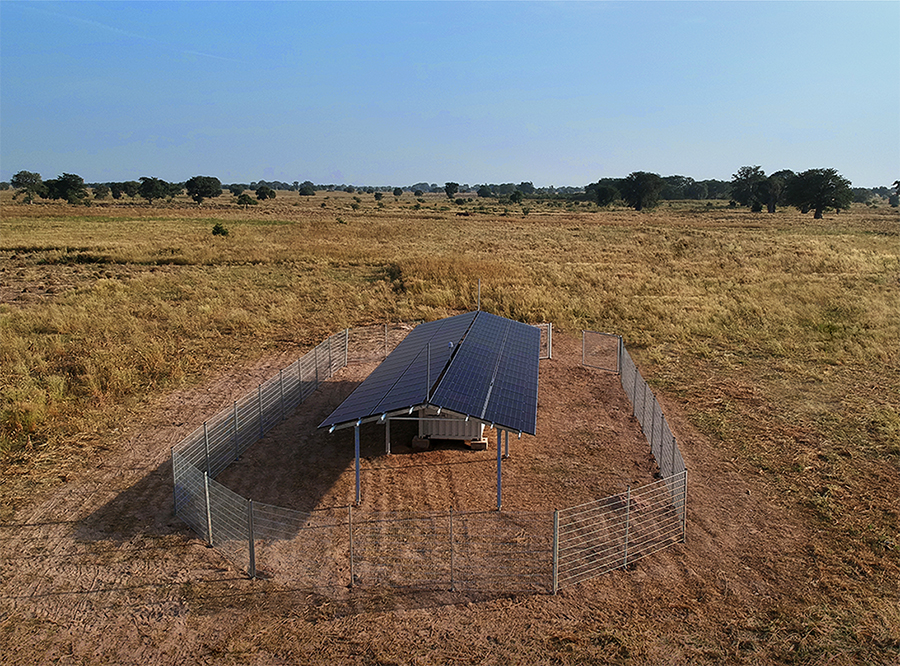 Health and education to benefit from green electricity
"Constant access to electricity is a milestone for many people living in rural Senegal," said Sawdiatou Mbaye, who has been working for Asantys as coordinator and communications manager of the ASER300 project since 2020. Asantys and Off-Grid Europe are supplying the container systems for the villages. "I always wanted to help bring about more sustainable development in my home country. I started working for Asantys after working on a project to protect the West African coastline," she recalled. She knows just how important ASER300 is for her home country. "Our health and education systems in particular stand to benefit from this project. It will enable more hospitals to be built in rural regions and kept running at all hours, so pregnant women no longer have to be taken miles to the nearest doctor." Christiane Kragh, Managing Director of Off-Grid Europe, adds: "It is special for us to be part of this project because it reaches so many people and has a real impact. As a company, we want to be active in Senegal in the long term beyond the project, which is why we have founded our subsidiary Off-Grid Africa. ASER300 is a flagship project for the whole region."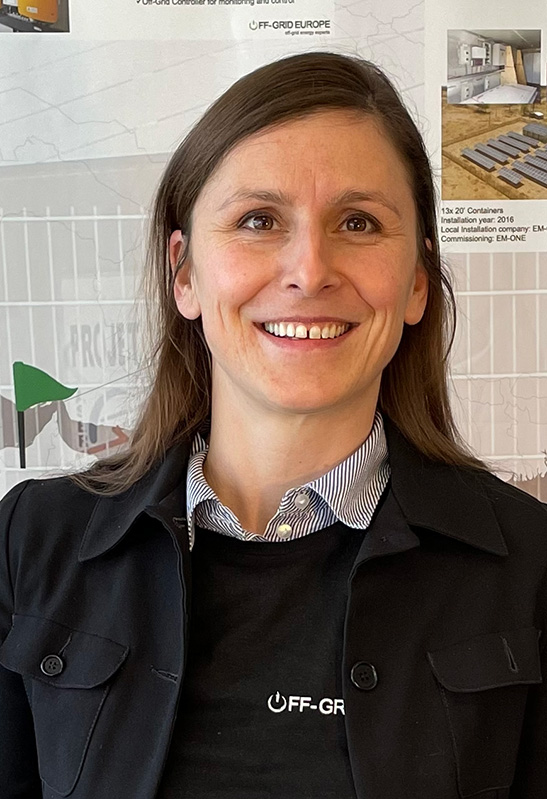 "It is special for us to be part of this project because it reaches so many people and has a real impact." – Christiane Kragh, Managing Director of Off-Grid Europe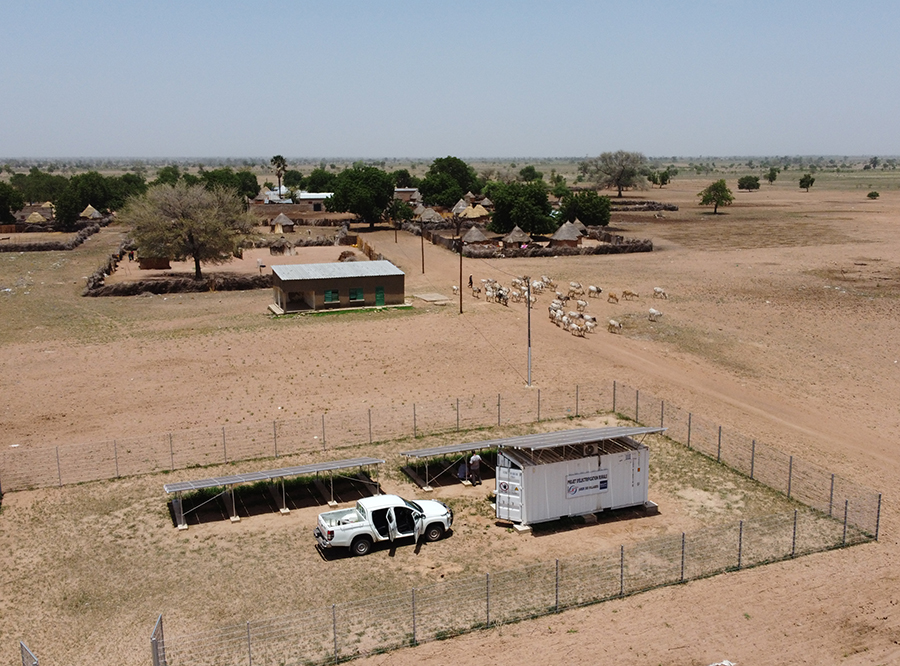 Electric shelling machines for village project
But the general living conditions in the countryside, which is being hit particularly hard by the increasing heat associated with climate change, are also improving. "People are now able to keep water and food cool, helping them to cope better with temperatures above 40 degrees in the shade," said Mbaye. She met a few women in one village who had formed an economic group and collectively purchased electric shelling machines for millet and peanuts. "Productivity is increasing, and information and training opportunities in particular will benefit," said Ekhoff. "We are seeing an improvement in communications as well, for example through much faster emergency calls."
"Once the components are in place, things move quickly"
Forty-four villages were electrified in November 2022, mostly in the Kaffrine, Velingara and Kolda regions. Another 132 villages are more or less ready to go. Everything is on track to be completed in 2024 – one year later than planned. The COVID-19 pandemic and the logistical difficulties of the infamous "last mile" keep causing delays.
"Our project villages are spread throughout the country, and some of them are 700 kilometres away from the capital," explained Ekhoff. "Off the national highways, many roads are dirt tracks made of sand and laterite. During the rainy season from May to November, roads can sometimes be washed away and block supply routes for many weeks. Transporting the containers to the villages can therefore be quite complicated." Once the components are in place though, implementing the systems is straightforward.