Energy Communities as a Model for the Future?
Citizens are taking the energy transition into their own hands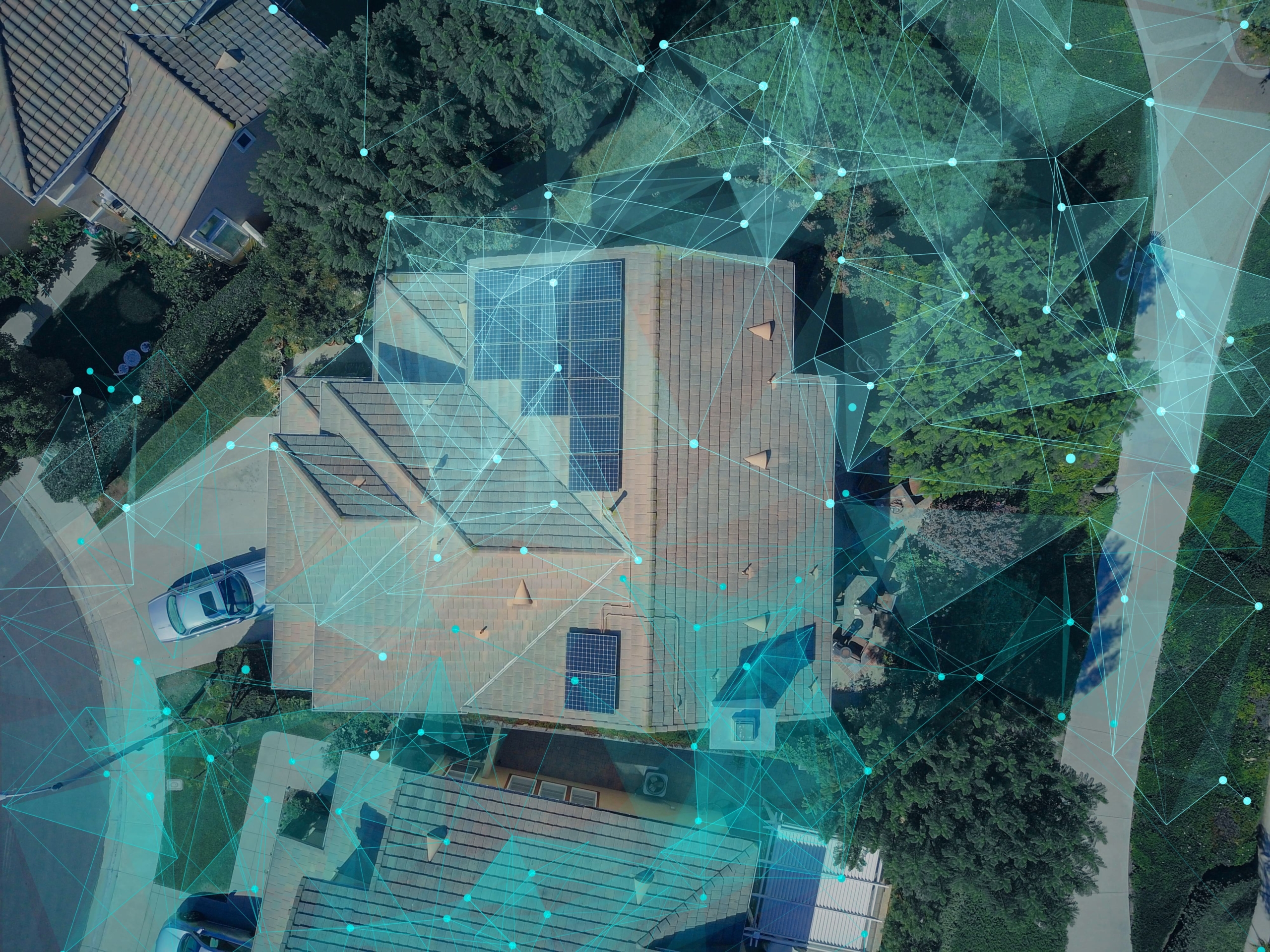 We're happy to help out our neighbors with a cup of sugar or a tool. But when it comes to electricity, everyone is still using their own. In an energy community, energy becomes a common good, jointly generated and jointly consumed. This concept addresses three major challenges of the energy transition, so it's no wonder that more and more energy communities are springing up in Europe.
Self-sufficient local energy supply
The 130 residents of the village of Feldheim in Brandenburg, Germany, aren't worried about international energy crises at the moment. They have been an energy community for several years now and have been completely self-sufficient since 2010 with low-cost electricity from wind and solar energy as well as heat from a biogas plant – almost entirely organic and fueled by local cultivation. What is usually the task of electric utility companies, the residents of Feldheim are doing on their own. "The citizens are taking responsibility into their own hands," said Feldheim's mayor Michael Knape to Deutsche Welle.
It all started back in the mid-1990s when investors Doreen and Michael Raschemann were building wind turbine systems near the village and wanted to get the residents on board in advance. The initial skepticism faded with transparent discussions and the prospect of being able to participate in the project themselves. "People have fewer concerns if they feel they are involved and have the possibility to veto the project," said Doreen Raschemann, explaining the success of the project. The fifth wind turbine has already been co-financed by the community, and over the years more and more renewable energy sources have been added. The village now produces enough energy to supply thousands of additional households in the region – a green mini power plant in the middle of the countryside.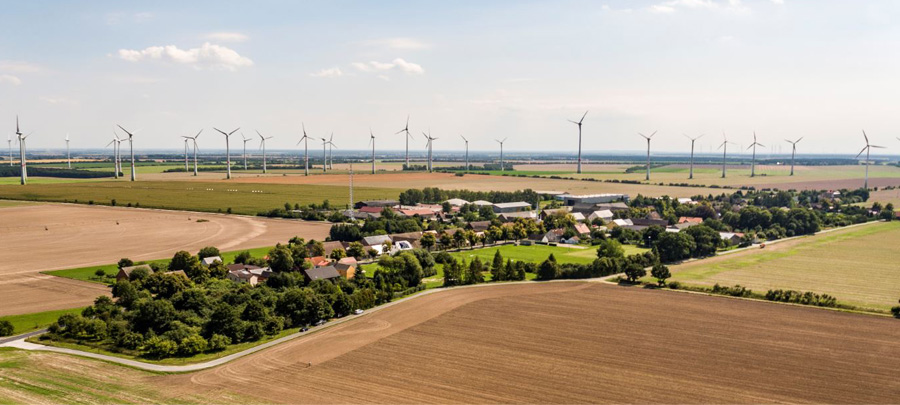 The energy self-sufficient village of Feldheim
The key to the energy transition?
The current energy crisis has made it clear that fossil fuels such as oil and gas are not only becoming increasingly scarce, but also more and more expensive as a result of the political decisions of individuals. Energy communities are the alternative because they make (green) electricity an inexpensive common good. Electricity is produced, used and purchased locally. In this way, citizens not only drive forward their personal energy transition and help shape climate change in their community, but they also earn money from the sale of surplus energy. The economic benefits should not be underestimated either. If energy is produced and consumed locally, there is less need to expand utility grids.
Such energy communities can form anywhere in the world. They particularly utilize their full potential in places where the utility grid does not reach every household and people have to improvise. But the concept is also so promising because energy communities address three major challenges of the energy transition at once – decarbonization, decentralization and digitalization. The use of renewable, clean energy from wind or solar power produces fewer carbon emissions than fossil fuel alternatives. The public power grid is being decentralized: energy communities are mini power plants and are based on off-grid networks that do not require a connection to the utility grid. Energy is generated where it is consumed. This ultimately also benefits digitalization, because an energy community cannot function without a digital infrastructure. Automated software provides live data on power generation and consumption. This is much more transparent and practical than an annual electricity or gas bill.
Feldheim was just the beginning
Feldheim has served as an energy role model for more than two decades, but it is not alone in Germany. According to the German Energy Agency dena, there are almost 1,700 energy communities in Germany, the most in Europe. The small town of Haßfurt in northern Bavaria is one of them. It is self-sufficient in terms of electricity because local politicians and municipal utilities have been pushing ahead with the energy transition for 25 years. They rely on a mix of solar energy, wind energy and biogas. The municipal PV system alone produces thousands of kilowatts of green electricity every day. In winter and on cloudy days, the wind turbines help to boost electricity production. Additional large battery-storage systems ensure a steady supply at night as well. The almost 13,000 inhabitants pay just 23 cents per kilowatt hour for this. Once the PV systems are paid off, it becomes even cheaper.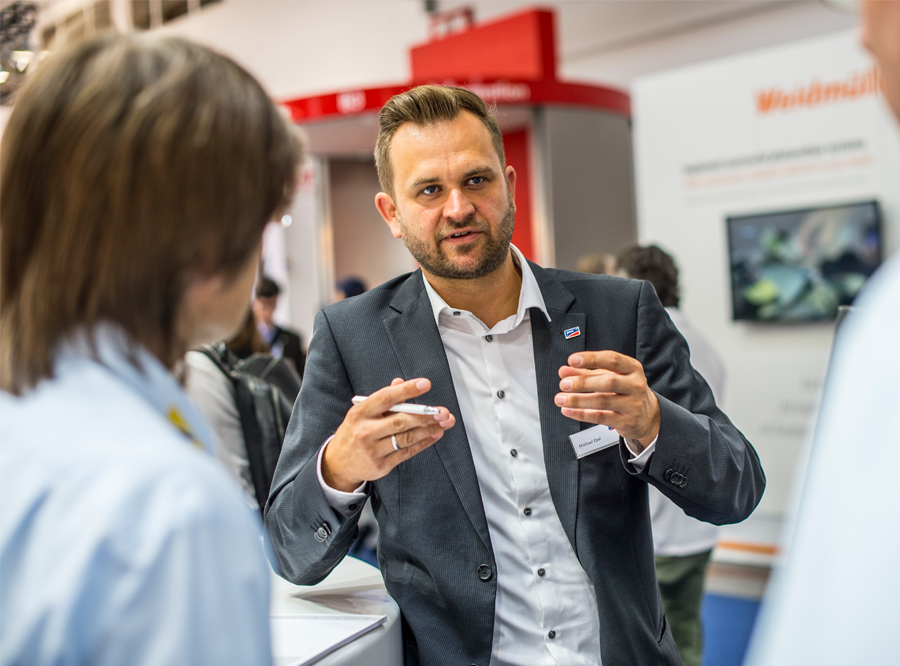 Projects like this are a prime example of self-sufficient energy supply," - Michael Ebel, key account manager at SMA Solar Technology AG
And what works here on a small scale can be scaled up as desired. A few kilometers away, Bundorf has a similar view. The largest citizen PV farm in Germany is currently being built here, on 125 hectares of land. Private citizens can participate in this via cooperatives. "Projects like this are a prime example of self-sufficient energy supply," said Michael Ebel, key account manager at SMA Solar Technology AG, which supplied Bundorf with system technology with an AC output of more than 100 megawatts. "Communities like this show that we can only manage the energy transition together if politicians, electric utility companies and citizens work together."
Energy communities show that Germany's electric utility companies need to rethink things. Take Aschaffenburger Versorgungs-GmbH (AVG), for example. "The days when you could earn money simply by supplying energy will soon be over. With the community, we want to initiate the change from energy supplier to solution-oriented service provider," said Jürgen Schnack, Head of Sales and Energy Management at AVG. This is why an energy community with PV systems is currently being created in the Lower Franconian city with its 71,000 inhabitants. The necessary technology and software will be provided by coneva GmbH, a subsidiary of SMA for digital energy solutions. "A smart box connects the households and measures power generation and consumption in real time. The data is fed into the local energy management system to optimize self-consumption and share surplus electricity with others. A smartphone app shows your personal energy balance – this makes your own power generation not only transparent, but also tangible," said Dr. Martin Stötzel, Product Owner of Energy Communities at coneva.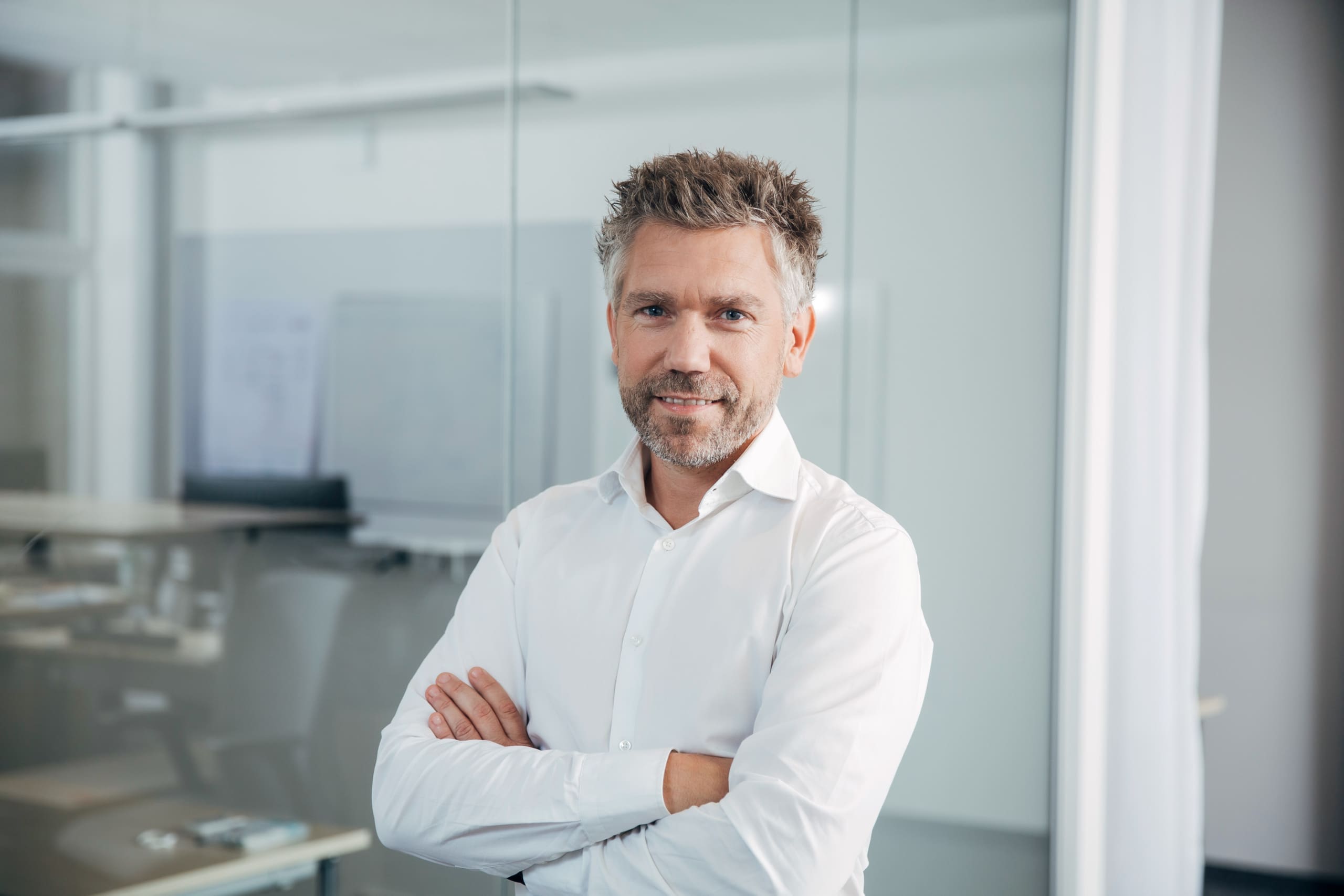 A smartphone app shows your personal energy balance" - Dr. Martin Stötzel, Product Owner Energy Communities at coneva.
There is a lot of interest among the people of Aschaffenburg, and the waiting list is long. "Profitability is not the top priority. Most people welcome the chance to finally be self-sufficient in electricity," said Jürgen Schnack from AVG. Since the utility grid is available as a back-up if necessary, there's no need to worry about power outages.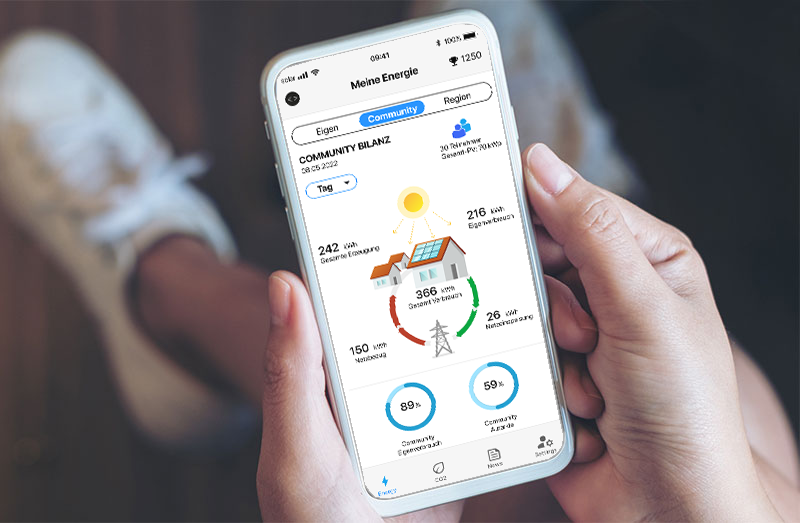 Always keep an eye on your own power consumption thanks to coneva's solutions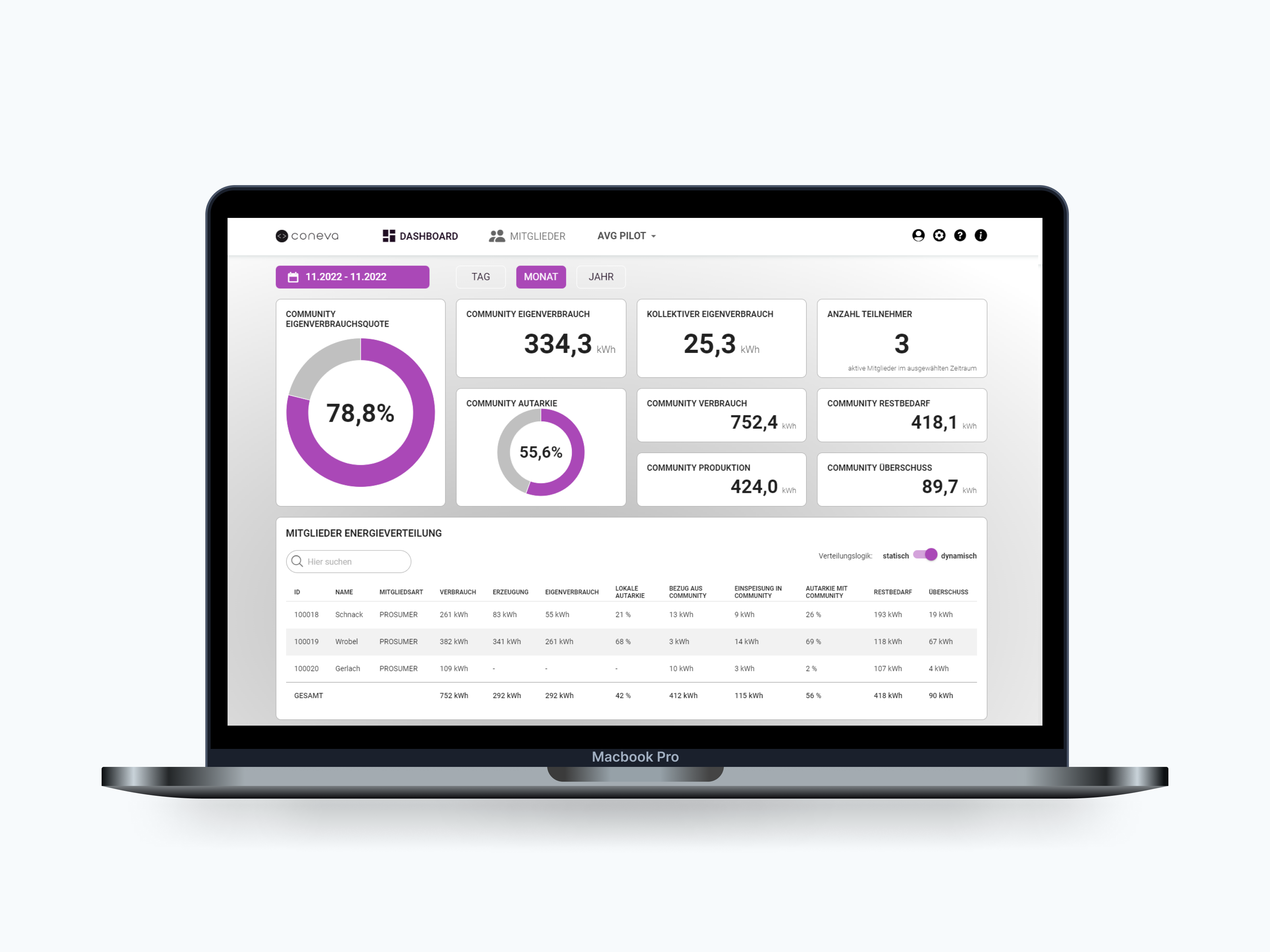 Energy Communities in Europa
Of course, energy communities are not only popular in Germany. The north of Europe, as well as the Netherlands and Spain, have hundreds of energy communities. Denmark, for example, declared energy generation a common good many years ago, which is why there are over 700 citizen wind projects in the country. Copenhagen's new Nordhavn district is considered a model for sustainable urban development and relies on a comprehensive sustainable energy concept and electric mobility. The Netherlands also has hundreds of energy communities that benefit from a well-developed digital infrastructure.
The European Union wants to further promote the energy communities model. It created a legal framework and funding incentives in 2019 with the Clean Energy Package and the Renewable Energy Directive. Countries such as Austria and Italy are already transposing the new regulations into national law. Conditions in the Italian region of Calabria, for example, are ideal for energy communities. Soon, and with the help of coneva, a pilot community will be launched that aims to exploit the full potential of renewable energies in the sun-drenched country in the south of Europe.
What are energy communities?
Generating and consuming energy together on a local or regional level. This is the mission statement of an energy community. To achieve this, electricity producers and consumers as well as prosumers (producers and consumers of electricity) join together to form a networked electricity community that is as self-sufficient as possible. The energy comes from renewable sources such as wind, solar or biogas and is shared fairly among the participants, with surplus energy being sold.
What is needed for an energy community?
Prosumers are the foundation of energy communities: they produce and consume energy. These can be private households, but also public institutions, such as schools or administrative buildings. Prosumers have a PV system or a comparable setup, and a consumption or storage system (e.g., charging station, battery, heat pump) to manage surplus energy. Modern software and hardware allows them to optimize their own power consumption and share the generated energy with each other. Surplus power can also be fed into the utility grid to create additional profit. The power community acts as a mini power plant and is sometimes organized as an "off-grid electricity network." This is connected to the utility grid to ensure supply reliability, but it can act completely independently.
Why are energy communities so valuable?
The energy communities model has so much potential for the energy transition because it addresses three major transformation challenges at once – the "3 Ds":
1. Decarbonization: Energy communities are based on renewable energy sources, such as wind, solar or biogas plants. So the electricity is not only green, but also climate-neutral and regionally sourced.
2. Decentralization: Energy is generated where it is consumed. The infrastructure is based on off-grid networks that do not require a connection to the utility grid. As energy communities form mini power plants that can supply a region with energy, there is thus no need for a massive expansion of the utility grid.
3. Digitalization. An energy community can become a reality only with the help of digital technologies. Automated software provides live data on power generation and consumption. Real-time collection and optimization is much more modern and transparent than annual gas bills, for example.