New Start for the PV Pioneers
Repowering: the opportunities after subsidies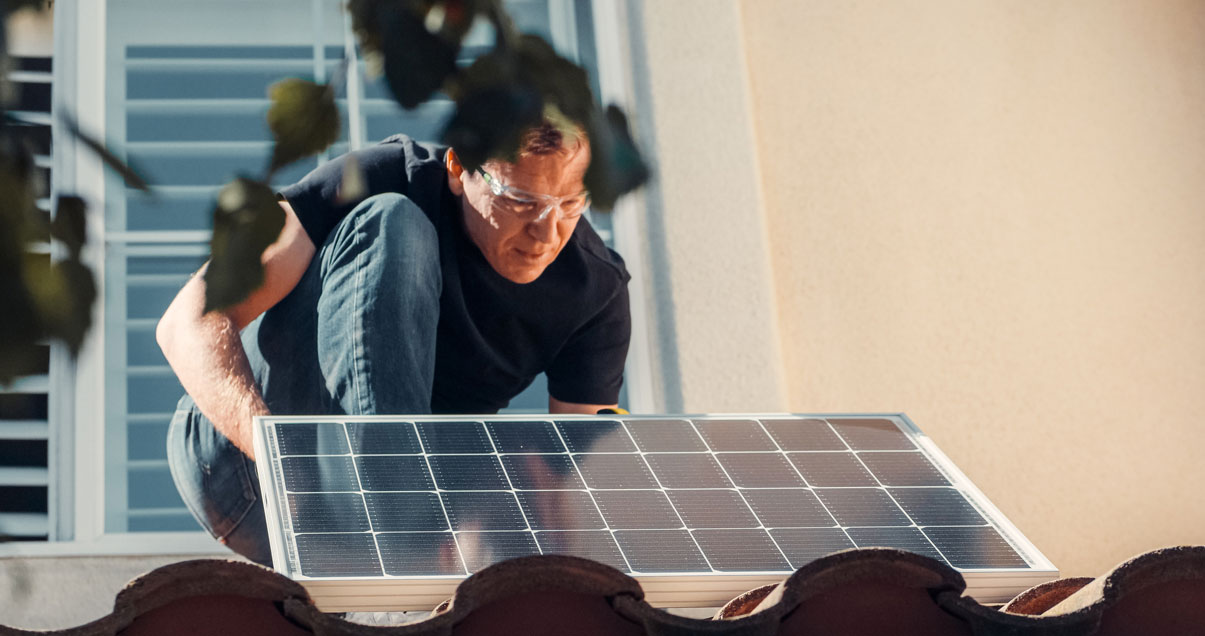 When Kurt Stenzel received his first PV system, they were still being delivered as a kit. The electrical engineer was among the first to have a PV system on his roof. In the #PVPioneer competition in 2020, SMA looked for brave people like him, who dared to take the first important steps toward the energy transition back then with what was still new technology. Sonnenallee has interviewed two of them for this article. There were a few things we wanted to know from them in particular: How do PV pioneers react to the fact that after twenty years of subsidies, grid feed-in is suddenly the least attractive option? What do they want to do next in terms of electricity? Upgrade to the latest technology, i.e. with repowering, use the electricity themselves or simply continue as they are?
Friday night. December 31, 2020, to be exact. In these final hours before the new year, only a few people are aware that, at the stroke of midnight, the first PV systems become ineligible for subsidies through the Renewable Energy Sources Act (EEG). What exactly will happen with these systems is still unclear to many owners at this point. After all, politicians kept everybody waiting for a decision for a long time. The CDU/SPD government in power at the time defined the conditions for continuation only two weeks before the end of the year.
Up to this point, even systems that were already connected to the utility grid before the year 2000 had been subsidized. This was also the case for our two interviewees: Kurt Stenzel, an electrical engineer who is highly enthusiastic about photovoltaics, and Andreas Bäder, co-owner of a craft business in the area of photovoltaics.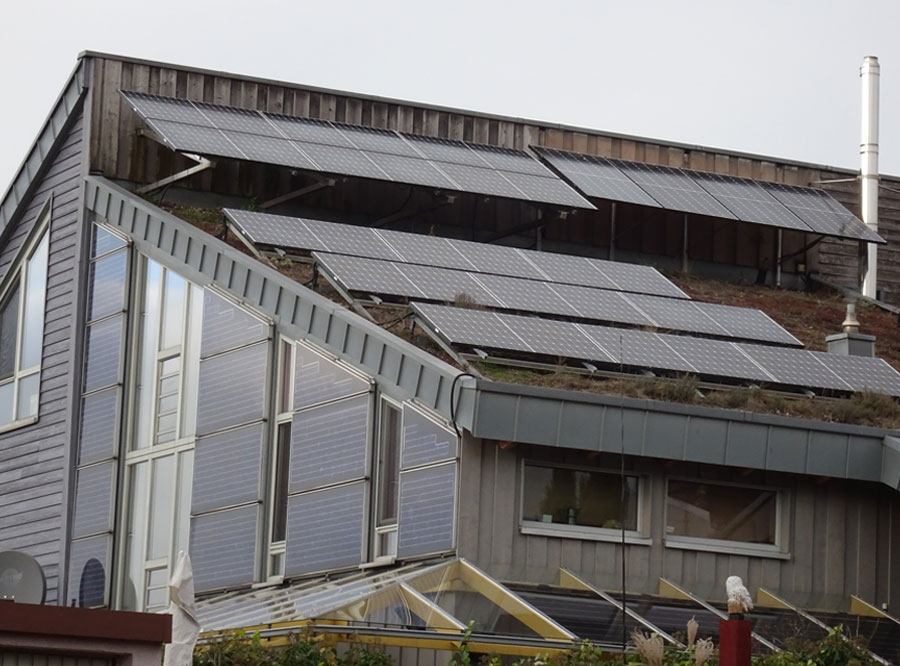 Andreas Bäder installed PV modules on his grass roof back in 1998.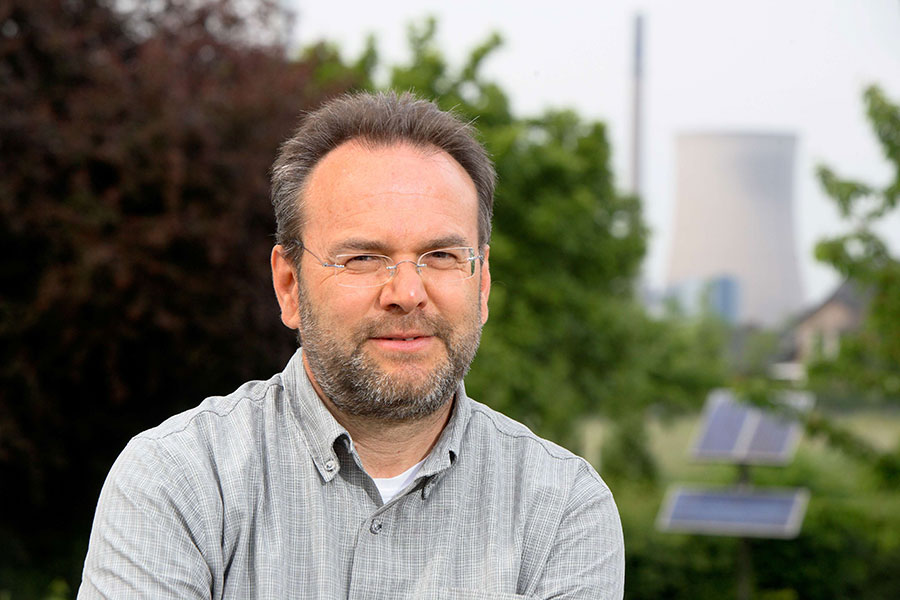 Two photovoltaics fans – one starting point: 1998
Independently of one another, both Andreas Bäder and Kurt Stenzel installed their first PV system in 1998. In subsequent years, they expanded their PV capacities and both now have a battery-storage system to enable them to consume as much of the energy yield as possible themselves.
How PV pioneers are dealing with the end of subsidies
SONNENALLEE:
Mr. Bäder, Mr. Stenzel, the subsidies for your first PV system were discontinued at the end of 2020. How are your initial systems performing?
Kurt Stenzel:
Surprisingly well. Over the years, I haven't really noticed any of the performance losses that the manufacturers warned of back then. Of course, due to fluctuations in the weather, it is difficult to judge, but I would maintain that my solar harvest is almost exactly as high as it was just after installation in 1998. However, with today's technology, I could generate almost three times the amount of energy with that roof area.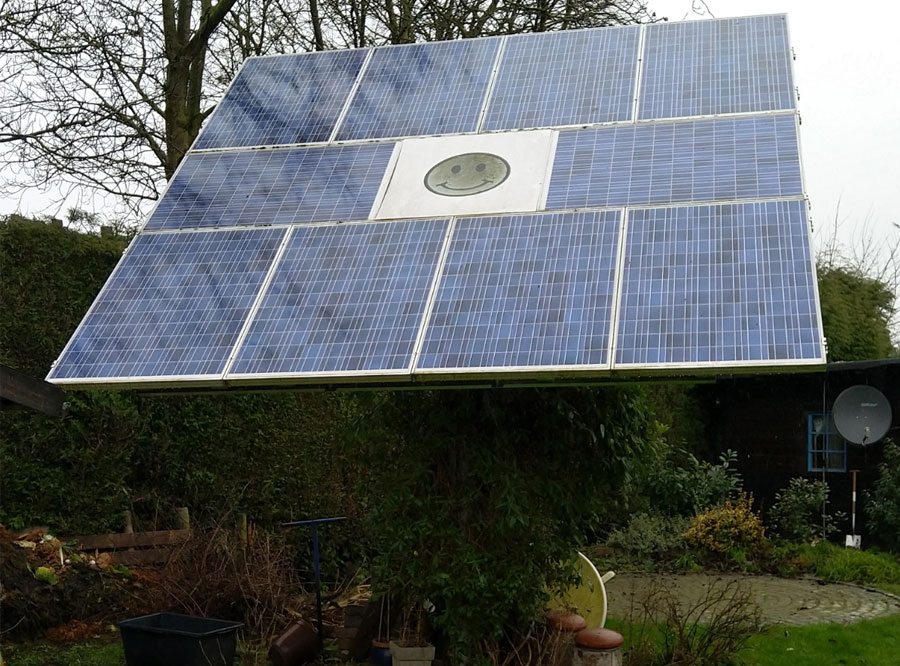 In 2004, Kurt Stenzel decided to build a 16 m2 tracking PV system in his garden.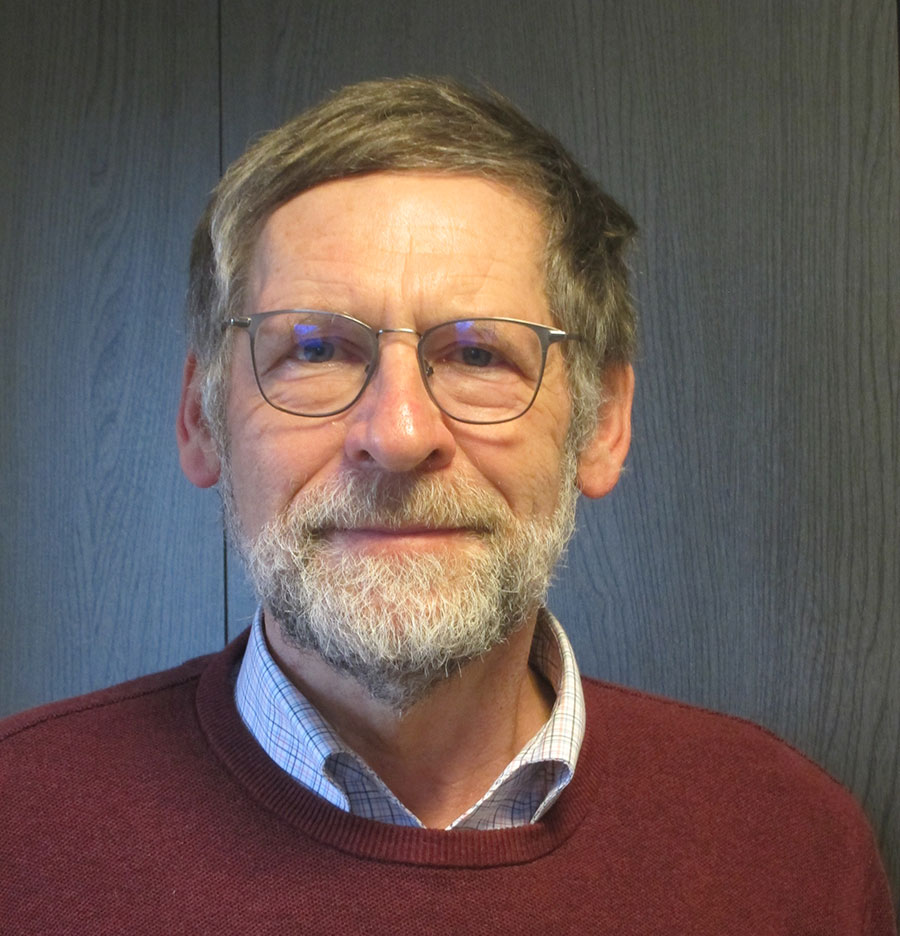 SONNENALLEE:
Mr. Bäder, your PV system also kept delivering excellent values until the end. What considerations led to you replacing it with a new one?
Andreas Bäder:
We had some renovation work on our agenda anyway when the subsidies were discontinued. It was perfect timing then to combine that with repowering the system. And then there is our relatively high power consumption which, of course, I would really like to cover using photovoltaics.
Incidentally, one of our neighbors and our first photovoltaics client still have their system from 1998 running. The reason for this is that the new modules may perform far better, but they are also larger, which means the roof area can no longer be used as efficiently. Ultimately, the new PV system would not have brought them any appreciable increase in yield.
Kurt Stenzel:
I am holding off with repowering until I can see how our energy requirements change as a result of our new electric car. Until then, the old modules will be staying on the roof. Having said that, I've already gotten one quote for a new PV system.
Subsidies under the Renewable Energy Sources Act (EEG) are discontinued – what now?
With every passing year, more PV systems lose their eligibility for subsidies under the Renewable Energy Sources Act (EEG) – which means that soon it will not just be PV pioneers who are faced with the question of how to continue with their own private energy transition. As subsidies are discontinued, the EEG amendment 2021 provides owners of PV systems with a variety of options:
Changing nothing is also an option
It is the simplest of all options. Operation of the PV system will continue as usual. That means that all of the solar power will be fed into the utility grid. The EEG amendment 2021 guarantees this option until 2027 at least. However, the feed-in tariff is based on the yearly market value for PV electricity that is determined by the energy exchange. In 2020, the price was just under 2.5 cents per kWh. From that, the grid operator deducts the selling costs. In 2020, that was 0.4 cents. One year later, however, the situation was completely different: The yearly market value tripled and was now just above 7.5 cents. That is a record value that exceeds even the subsidies for new systems. Nevertheless, it is still only a fraction of the price that consumers pay to their electric utility company for one kilowatt hour.
Consuming solar power yourself yields the greatest saving
That is why simply using as much of the electricity produced as possible yourself is among the most popular. As long as the power of the PV system is below 30 kWp and self-consumption does not exceed 30 MWh, it is not necessary to pay any further EEG levy on the electricity you consume yourself. However, the system should be modified accordingly by trained specialist personnel. A set-up that Mr. Bäder's first photovoltaics customer also opted for. Now they largely use the electricity from their 24-year-old PV system themselves in order to keep their electricity bill low.
Who offers more? Higher prices through direct selling?
Time and again, you hear that it is possible to sell the electricity yourself at higher prices – to green electricity providers, for example. Naturstrom, the largest independent green electricity provider, does not offer that. Spokesperson Tim Loppe gives the following reasons for its stance: "These pioneer systems have very low power. In addition, after the feed-in tariff ceases to apply, it makes sense to use as much self-generated electricity as possible yourself in the home. That means there are only minimal amounts of residual current left over to feed into the utility grid – that's not worth selling on as green electricity."
Repowering: Full steam ahead for the upgrade
Anybody who wishes to profit from the progress made in over two decades of technical development is opting for repowering. The term "repowering" means increasing the efficiency of an existing system that generates electricity by modernizing it. With photovoltaics, that means weakening modules or a faulty inverter are replaced, for example. But it can also mean optimizing self-consumption. This may be achieved by installing an SMA Sunny Home Manager 2.0 or storage technology, or incorporating an electric car into the new concept, for example. While the Sunny Home Manager controls devices in the home so that as much self-generated solar power as possible is used, consumption can also be shifted to other times with an electric car or a battery-storage system. In this connection, it is also worth reading our "Wallbox Guide".
Repowering – What is possible?
However, with many of the systems that are over 20 years old, repowering will boil down to all of the components being replaced. With the same roof area, that means the solar harvest will double on average. As a result, the question of where the electricity will go becomes even more pressing.
After all, despite new subsidies, self-consumption will remain the most profitable option in the future, too. With the right infrastructure – consisting of a modern inverter, SMA Sunny Home Manager 2.0, a battery inverter such as the SMA Sunny Island and energy storage solutions – up to 80 percent of the electricity generated can be consumed at the property. After all, with the right infrastructure you continue using your solar power even in the dead of night. A very special feeling. You can find a graphical overview of the options produced by SMA at https://www.sma.de/post-eeg.html.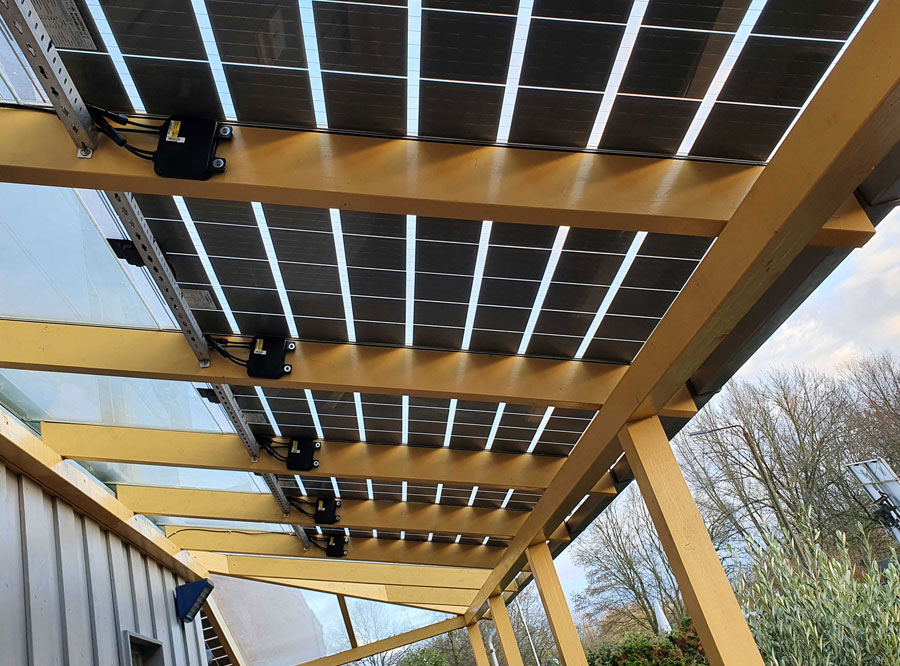 Since the old timber structure of the canopy was in need of renovation, Andreas Bäder also replaced the modules with more translucent photovoltaics integrated in panes.
More effective storage rather than feeding in
For both PV pioneers, repowering is an ongoing process. Over the years, they have expanded their systems and equipped them with an electricity storage system. "In 2018, investing in an electricity storage system wasn't profitable yet. The prices were too high for that," explains Kurt Stenzel. "But it did mean that we were already able to cover almost 80 percent of our needs ourselves in the first year – without a battery-storage system, that wouldn't even have been 30 percent," the pensioner reports enthusiastically.
Tips for using more electricity yourself
Andreas Bäder agrees, but the businessman has another trick. He utilizes the control options that are available today:
"With our system, any solar power not needed at the moment automatically goes to a heating element in our hot-water tank. The electricity does not charge our 7.5 kW electricity storage system in the cellar or our electric car until the water in the tank is sufficiently hot. Thus the solar power effectively runs through a cascade of consumers before a small amount of residual current is fed into the utility grid." He also recommends the trick with the heating element to his customers: "Today, almost every modern buffer storage system has a facility for connecting a second heating element. This can be actuated immediately when there is surplus solar power. That is certainly more convenient than installing a solar thermal energy system on the roof in parallel, and you can use the free area to increase the PV capacity," explains the businessman.
Fresh impetus for the energy transition from the bottom up
But demand for PV systems is also growing independently of repowering measures at the moment. Andreas Bäder first observed this some time ago: "With Fridays for Future, awareness of the necessity of renewable energies has increased considerably." PV pioneer Wilhelm Heisse from Landsberg am Lech gave us a similar account. The managing director of Heisse Solar was forced to decline an interview due to the associated high workload: "In around two months, we as a small specialist company have received 90 inquiries for PV projects." Thus the energy transition is receiving fresh momentum that is registering with the companies locally too – including from people who are not PV pioneers.
Supplement: The current war in Ukraine could give this trend further impetus. Because energy is becoming increasingly expensive not only at gas stations, but also on the electricity exchanges. According to the Finanztip portal, the "prices on the electricity exchange (…) in March 2022 were around eight times as high as in March 2021." Another good reason to finally tap into the domestic energy sources on your own roof.