An island as a laboratory for the future
Astypalaia becomes a model for climate-neutral transportation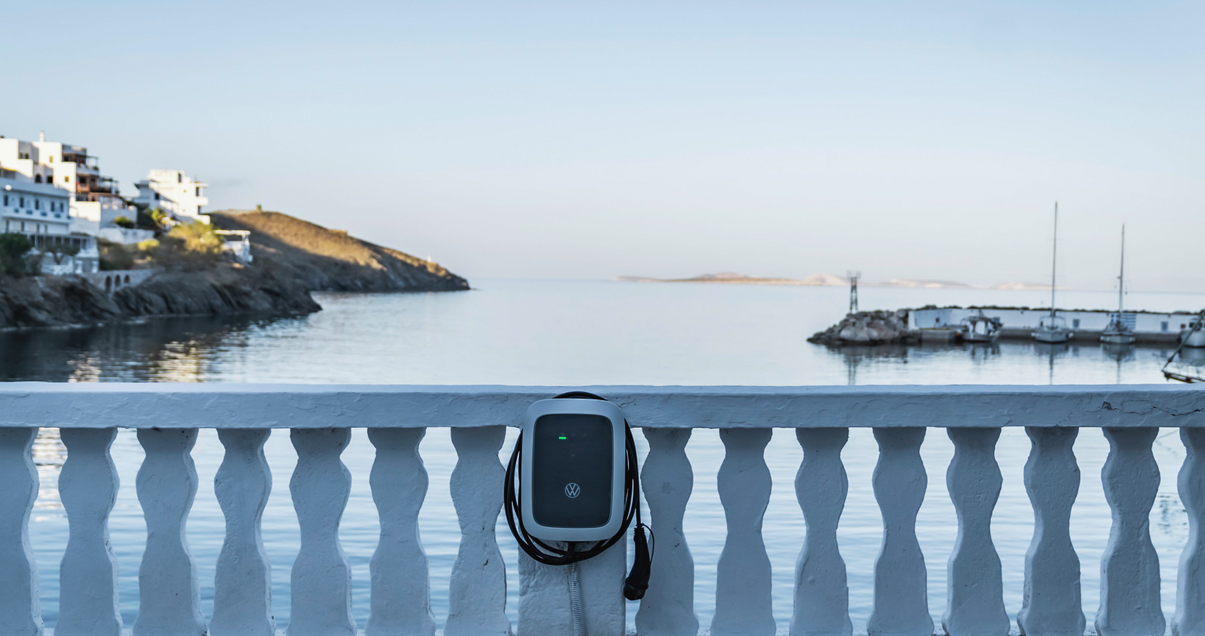 Volkswagen AG
Brightly painted fishing boats bob in the harbor of the Greek island of Astypalaia. Like a cubist painting, the typical gleaming white boxes of Cycladic houses snake up the hill to a 13th-century Venetian fort. Above the harbor, in a windbreak in the main village of Chora, eight old windmills with red roofs stand in rows. The freshly asphalted parking lot next door, where two latest-generation electric cars are filling up at a futuristic charging station, seems anachronistic.
Smart and sustainable
We are on Astypalaia, a small island between the Cyclades and the Dodecanese island groups. One hundred square kilometers in size, comparable to Sylt in northern Germany, the island is occupied by around 1,300 inhabitants. There are a few more in summer, because around 70,000 travelers – mainly from Germany and Italy – arrive in search of places that are a little more unspoiled by tourism.
That could soon change. After the failed attempt four years ago to make Astypalaia the world's first smoke-free island, the Volkswagen Group and the Greek government recently launched an almost equally ambitious project to great media fanfare. They want to abolish all vehicles with internal combustion engines and make Astypalaia a "smart and sustainable" island, a model island for climate-neutral transportation, by 2026.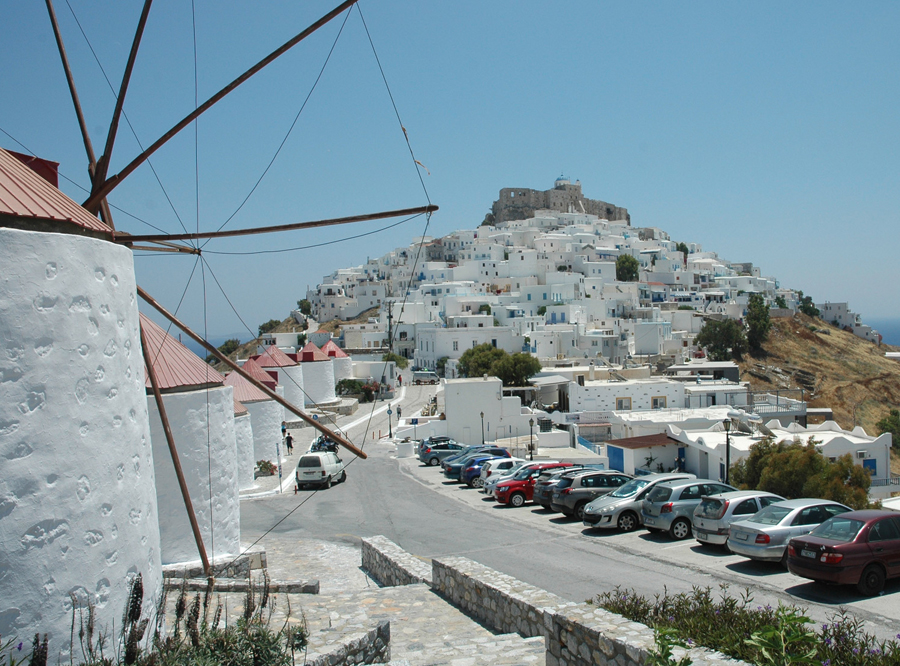 Volkswagen AG
"Making decisions about transportation is much less complex on a small island than it is in a big city." - Nikolaos Komineas, Mayor of Astypalaia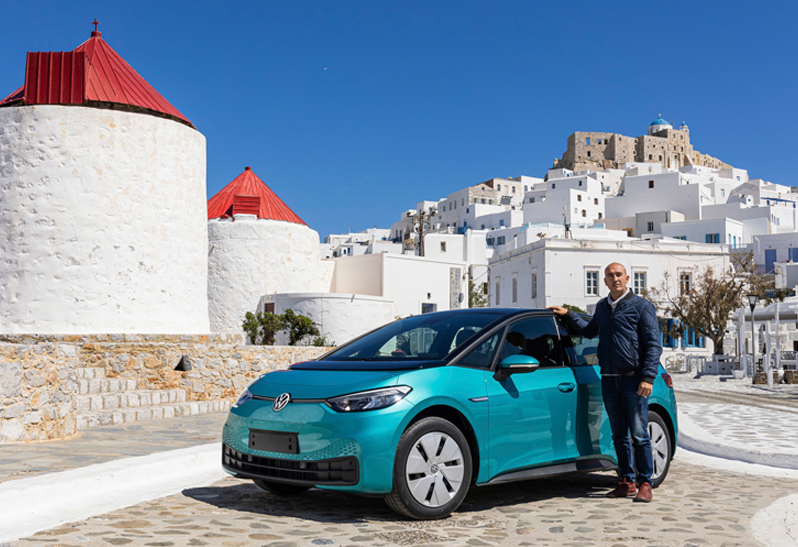 Volkswagen AG
The right place at the right time
Nikolaos Komineas has been mayor of Astypalaia since 2019 and is the driving force behind the project. The 65-year-old architect, who has lived here since 1983, happened to be in the right place at the right time at the beginning of his term of office. At the time, he approached the Ministry of Infrastructure and Transport in Athens because he wanted to convert the island's public transit system to e-mobility. At the same time, the Greek Ministry of Foreign Affairs and Volkswagen were negotiating an e-mobility project on the Greek islands. Just eight months later, it was decided that the project would take place on Astypalaia. "Astypalaia offers Volkswagen the chance to experience how well systems such as shuttle-on-demand and car-sharing work in a closed system with no real alternatives," said Komineas. "Making decisions about transportation is much less complex on a small island than it is in a big city."
Solar power instead of diesel
Astypalaia's road network comprises 30 kilometers of main roads, 40 kilometers of minor roads and 120 kilometers of dirt roads. There are almost 1,500 vehicles with internal combustion engines, and almost all the electricity needed on the island is now produced with diesel generators. The island's CO₂ emissions amount to almost 5,000 metric tons per year. In the next few years, the energy system is to be completely overhauled. Conventional vehicles will be replaced by about 1,000 electric vehicles, from police cars and delivery vans to electric bikes, scooters and private cars. Astypalaia will then be fully electric. The strategy also includes two new transportation services.
"Everyone understands that it makes no sense to introduce electric cars but keep running diesel generators to produce power. However, the idea of wind turbines is met with much opposition," explained Komineas. "There has now been a clear decision by the city council that Astypalaia does not want to generate electricity beyond its own needs. There will be no large wind farm, and no cable to another island." Instead, a PV farm that can supply around three megawatts of green power will be built by 2023. That is enough to meet the electricity demand of the electric fleet and more than 50% of the island's total energy needs. In the subsequent years, the new energy system will be expanded further and is expected then to supply around 80% of the energy required. A battery-storage system will ensure grid stability and efficient use of the energy.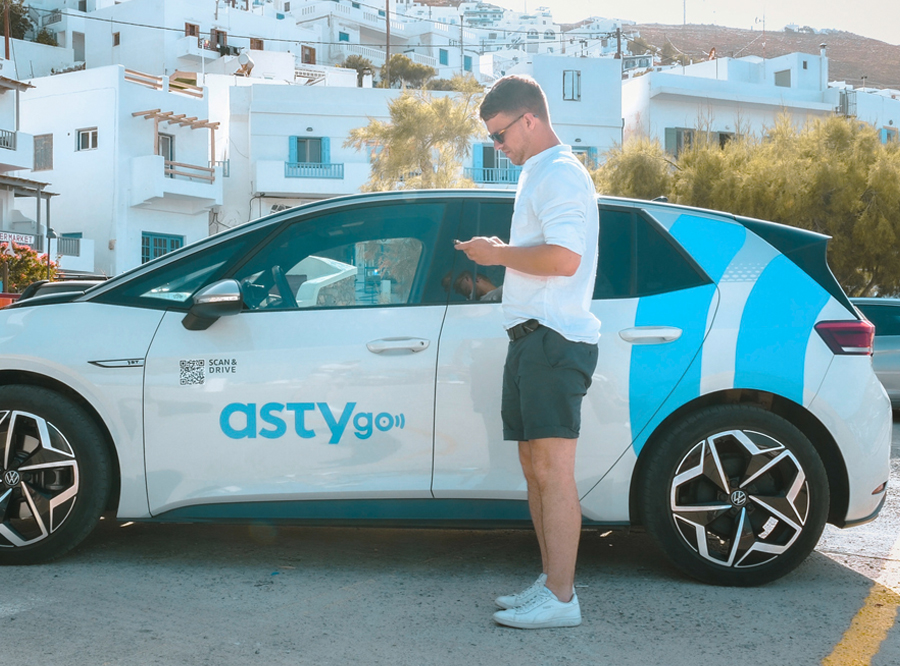 Volkswagen AG
"I would never have imagined that something so innovative would come to Astypalaia. I'm sure I'll use it a lot, because I don't have my own car or motorcycle." – Athanasia Sismani, resident of Astypalaia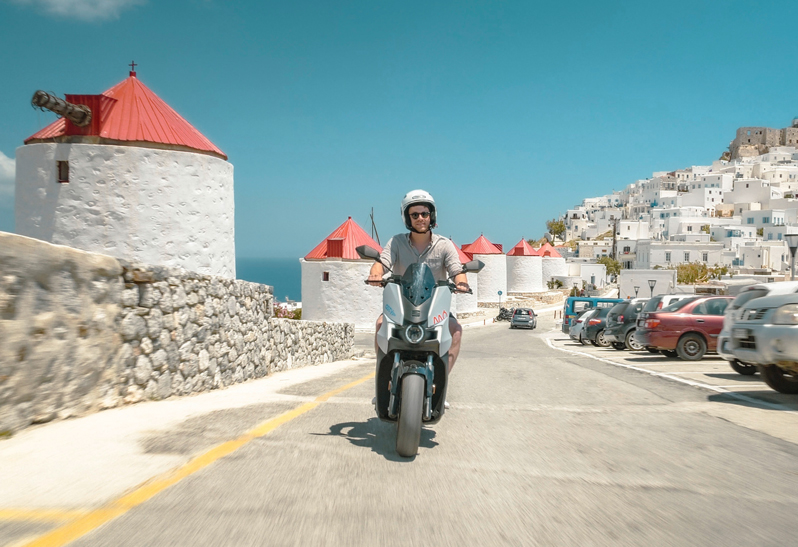 Volkswagen AG
Pilot project for the future of transportation
In summer 2021, the first electric cars for Astypalaia were delivered from Piraeus by the Blue Star ferry. The mayor, airport and police are now operating all-electric fleets. Residents of the island who trade in their combustion-engined vehicles for electric vehicles are supported with generous purchase grants from the Greek government. Thanos Papagiannis was one of the first private customers to get an electric car in April 2022. "E-mobility is perfect for Astypalaia. The distances between places are short, power consumption is low and the charging network is now very well developed. I hope that this project also inspires other regions to do more for climate protection and e-mobility."
Scrap vehicles to be recycled
There are now already 20 public charging points, including one for fast charging, for the approximately 40 electric vehicles on the island so far. In addition to the ride-sharing and car-sharing service vehicles, there is also an electric taxi and a new electric ambulance. Because broken motorcycles, cars and trucks are usually just parked somewhere on the island and forgotten, the local government on the island, together with Greek Volkswagen importer Kosmocar, has now launched a recycling initiative. Helpers collect the scrap vehicles and they are then transported by ferry to Athens.
A whole island as a laboratory for the future
Astypalaia is the ideal blueprint for the future of transportation not only for the Greek government's ambitious climate goals, but also for other countries: the island is self-contained and just the right size for efficiently testing transportation systems. This will be a chance to quickly get an idea of the opportunities and challenges faced by governments around the world in transforming economies and societies. To better understand these processes, the project is being supported by researchers from the University of Strathclyde in Scotland and the University of the Aegean in Greece. Their surveys will help to include the perspectives of the islanders and to better understand the transformation process.
Mayor Nikolaos Komineas wants even more. "My main goal is to convince people to stay longer on Astypalaia and to make their homes here. That will strengthen our community as well as our local economy. Our transportation system will require 5G technology in the future, which will make working from Astypalaia an option for many people who can't do so right now."