Green Energy with a Side of Vegetables
Photovoltaics on Agricultural Land as a Model for the Future
When growing hay and forage crops was no longer enough to ensure the survival of grandpa Jack's farm in Boulder County, Colorado, grandson Byron Kominek went looking for a new source of income. In doing so, he became a pioneer in agri-photovoltaics, or agrivoltaics – the simultaneous use of agricultural land for growing food and generating solar power.
Originally, it was only the financial side of solar power generation that interested the young farm manager. "But then a friend put me in touch with researchers at the National Renewable Energy Laboratory, which soon led to talks with professors at the University of Arizona and Colorado State University. Their idea of cultivating the land underneath the PV modules fascinated me. I saw it as a great opportunity to give something back to society."
With his idea, Byron Kominek met with little enthusiasm to begin with. "Both the farmers and the experts from the solar industry were skeptical. We commissioned an artist who illustrated my vision with watercolors. I think it was only then that people were able to grasp the idea of agrivoltaics." Now, Jack's Solar Garden is the largest commercial research establishment for agrivoltaics in the United States.
Kominek wants the land beneath PV modules to be kept alive, instead of letting it wither as he has often seen on fact-finding trips around the USA. That is why Jack's Solar Garden is not only a research project, but an educational project, too. The affiliated Colorado Agrivoltaic Learning Center provides students, citizens and political decision-makers with information about the dual use of land for producing both clean energy and regional food.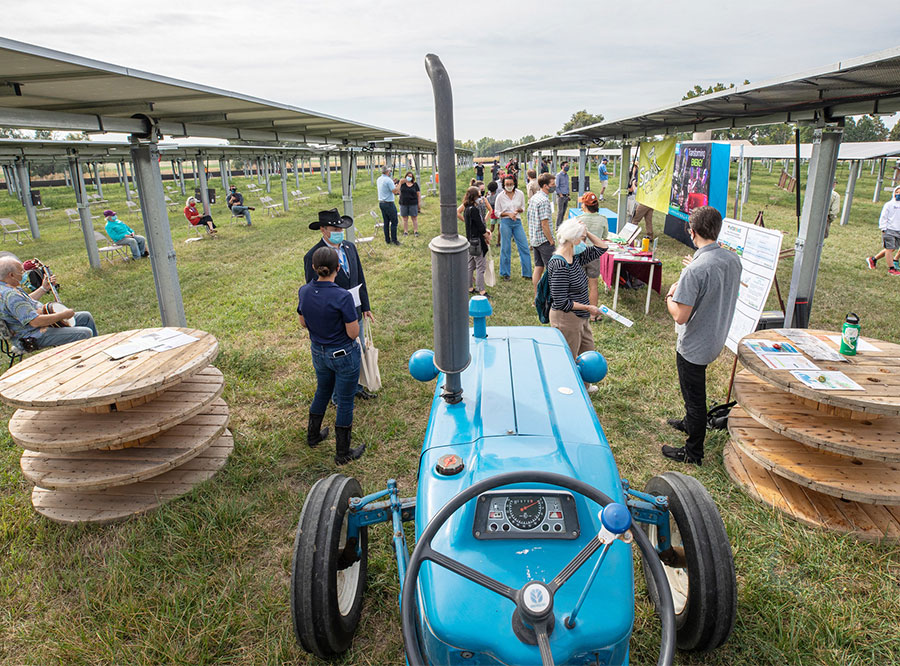 Involving local people and "giving something back to society" is another important aspect of the project. - Byron Kominek, Jack's Solar Garden
Involving local people and "giving something back to society" is another important aspect of the project. To that end, Jack's Solar Garden is cooperating with This non-profit organization provides access to healthy food with community farms. "Underneath our PV modules, they grow vegetables, herbs and fruit that they sell at the community center in exchange for donations." All the electricity from Jack's Solar Garden is fed into the utility grid of the local electric utility company, with part of it reserved for low-income households.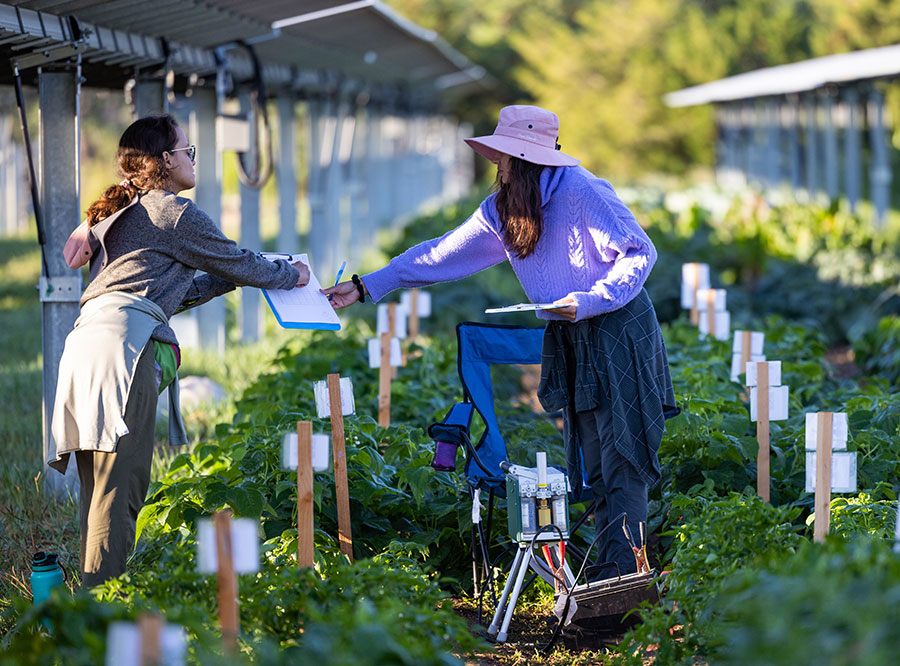 "It means a lot to me when people visit my family's land and draw inspiration from it," says Kominek.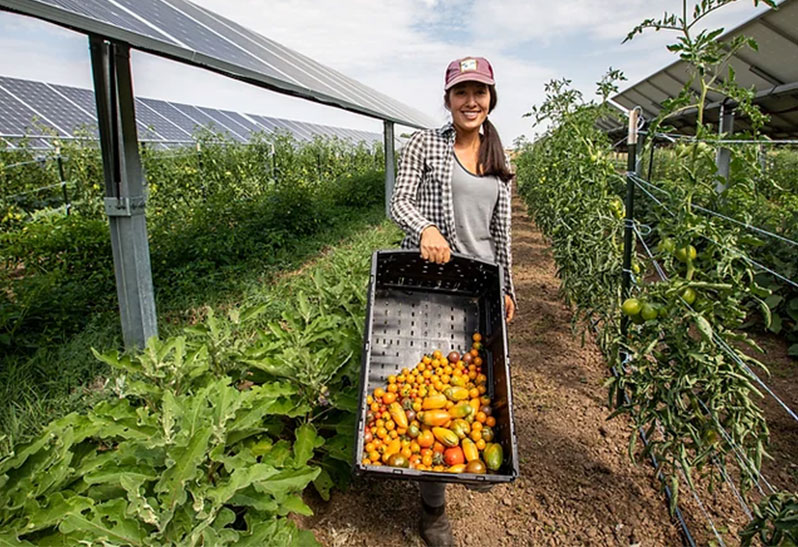 "Seeing people's eyes light up when they walk through our site is a highlight of my work."
But he is especially pleased that his mother is now in favor of the project. "It took over a year before she allowed my father and me to build a PV system on our family's land. Now that we are in the second growing season, she is – I think – enjoying observing the visitors, dealing with the researchers and seeing how the plants are thriving beneath our PV system. Without my mother's approval and support, we would not have been ableto build Jack's Solar Garden."
Polycrystalline Beats Monoculture
Large fruits and tender vegetables are most likely to thrive in mild temperatures and good, moist soil. Both are becoming less common as a result of climate change, with heat and wind drying the soil out and heavy rain sweeping away the humus. However, conventional farming works with regular irrigation and fertilization.
It is becoming increasingly apparent that original forms of land use – such as mixed cultivation in the shadows of trees – have advantages over large-scale monoculture. Agrivoltaics is now bringing back some of the strengths of traditional farming methods like this in a modern guise.
Germany's climate is also changing, and the expansion of photovoltaics is essential for the energy transition. In this respect, it is obvious that agrivoltaics should be given a chance, as has already happened in many other countries, and increasingly European countries too.
Built on Sand: Steinhöfel Climate Park
East of Berlin, in the Margraviate of Brandenburg, the soil, which is light anyway, is so dry that even couch grass, a wild herb unpopular with farmers, might not grow there in some places. This prompted a photovoltaics customer of SUNfarming GmbH and its general manager to talk about agrivoltaics. The company has been testing the cultivation of food crops underneath PV modules for a number of years, at the Food & Energy Training Centre in South Africa and the Rathenow research site.
The farmer and the general manager wondered whether the dual land use might also be able to cushion the effects of climate change in Brandenburg and provide an alternative to cultivating the low-yield soil conventionally. The idea has now become a fully fledged project.
The Steinhöfel climate park, a 550-hectare agrivoltaic system, is still in the planning stages. But on balance, the authorities are in agreement, as you can see from the resolution to draw up a plan. The public consultation also predominantly drew approval, as Heiner Kamper  from SUNfarming explains. "After all, we do not cover any valuable topsoil with photovoltaics in principle. The areas have been chosen by the farmers themselves, precisely because the soil there is rather poor and they are hoping that the agrivoltaics will bring about an improvement."
"With the models that have been used, rain also gets underneath the module structures through the sprinkling of droplets. Besides, they provide shelter, which prevents the sun from drying out the soil so quickly and the wind from carrying it away," explains Kamper.
Upon its inspection, the nature conservation authority responsible for Steinhöfel was delighted that areas are being withdrawn from use for conventional agriculture and that the soil, flora and fauna are able to recover. "At the same time," says Kamper, "the farmer, of course, has an interest in also producing food there and not just sowing dry grassland species for biodiversity."
What type of farming is to take place and how the project is to be integrated into the landscape are matters for a local project group. So far, rearing sheep, raising hens and suckler cow husbandry are all being discussed in addition to growing berries. How the anticipated biodiversity actually develops is being studied in three areas alongside the project.
However, it is clear that SUNfarming is relying on PV inverters from the global market leader in Steinhöfel, just as it does in all of its commercial PV systems. "For us, durability and performance are crucial. That's why we prefer to work with technology from SMA. And there is always somebody available to talk to – you don't get that kind of service everywhere."